UK and China commence 'cultural dialogue'
Culture Secretary Jeremy Hunt and Chinese State Councillor Liu Yandong met at the Victoria and Albert Museum in London to launch a new cultural 'dialogue' between the UK and China.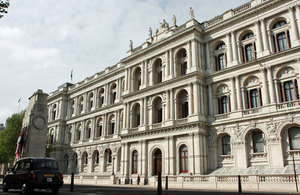 The exchanges, which will take place on an annual basis, provide an opportunity to develop closer ties in areas where the UK excels, including in culture, the creative industries, science and education.
This marks an uplift of the UK's bilateral relationship with China, making it the only country apart from the USA to have high level discussions on these issues. From now on it will form part of the wider cooperation that the two countries have including an economic and financial dialogue, and a dialogue on human rights.
The Culture Secretary said:
"The UK excels in the creative industries and we have an education system that is envied across the world. These are achievements of which we are rightly proud and meetings like this enable us to share them with our partners overseas.
"I hope that through this, the first of our cultural dialogues with China, we will develop deeper ties across all the areas that interest us. China is a country with a vibrant cultural past and a growing economic future. There is much that we can learn from one another."
Today's event, involving a number of UK Government Ministers and representatives of arts and science organisations, is intended to focus on relationships between people in the two countries and the ties they share. By working more closely together it is also hoped that the UK and China will be able to boost their economies, sharing best practice and improving specialist skills.
As the UK approaches the Olympic Games in June it is also an opportunity for the UK to showcase what it does best. UK Ministers will be highlighting the prospects available for investing, doing business, studying and visiting.
Foreign Office Minister Jeremy Browne said:
"China and the UK describe ourselves as 'partners for growth'. We have a strong trade and investment relationship that is well on the way to reaching $100 billion in bilateral trade by 2015.
"But we want the relationship to be about so much more than that. Clearly there are political and international subjects on which we disagree, and we address these throughout the year, but this is an opportunity to look also at areas where we can work together and learn from each other.
"As we look forward to welcoming Chinese visitors for the Olympic Games, I hope that we can reflect on what we share. The UK wants the Olympics to show off the best of London, and what we can achieve. We saw what Beijing had to offer last time round, and now it is our turn."
Director of the V&A Martin Roth said:
"We feel honoured to be the first host of the People-to-People Dialogue event and look forward to welcoming decision-makers and colleagues from the UK and China to the V&A. The dialogue will provide a valuable platform to reinforce cultural links with China by sharing knowledge and expertise and exchanging new ideas on a more informal level. For the first time, the V&A will be working with both the National Museum of China and the British Museum this year to present an exhibition of ceramic masterpieces as part of the UK Now 2012 Festival in China."
Published 16 April 2012