UK and Algeria hold high level political talks
Foreign Office Minister for North Africa Alistair Burt and Algerian Minister Delegate Abdelkader Messahel met in London on 8-9 March for the sixth Annual UK/Algeria high level political talks.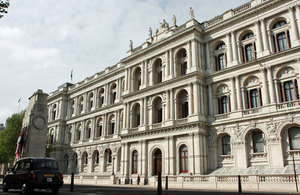 Speaking after the talks, the Foreign Office Minister said:
"These talks have helped to further strengthen our already strong bilateral relationship.
"Our two countries work closely together on a range of areas. Our economic relationship is good and is growing fast. UK exports to Algeria increased by 60% last year, and we are looking to increase this still further. We used the talks to today to discuss how to extend cooperation on renewable energy, where Algeria is looking to expand its capacity.
"Political relations are also strong. Contacts between our respective legislatures are improving and I was very pleased by the recent creation of a UK All Party Parliamentary Group on Algeria. We hope that the UK's experience can help the Algerian government as it seeks to extend political reforms. In this context, I welcome Algeria's decision to invite election monitors to witness the forthcoming polls. The UK supports these and all other efforts to improve political representation and human rights in Algeria.
"We continue to work closely together on tackling the shared threat posed by terrorism in the Sahel region. I told Minister Delegate Messahel that I continue to strongly support the Algerian government's opposition to the payment of ransoms to terrorist groups.
"We also shared views on regional issues. I expressed my revulsion at the ongoing violence in Syria and offered the British government's strong support for the Arab League's efforts to bring about a political transition in Syria so that the bloodshed can be brought to an end.
"I expressed hope that recent talks between Algeria and Morocco could signal a rapprochement that, alongside a revitalised role for the Arab Maghreb Union, would bring the people of the region closer together. Further integration would have economic and security benefits for all. I also hope that a solution can be found to the status of Western Sahara that respects the rights of its people to self-determination".
Minister Delegate Messahel added:
"I would like to express my appreciation for the depth of the bilateral relationship and quality of the political dialogue taking place between Algeria and the UK. The development of the bilateral relations is clearly reflected by the fact that British businessmen are more and more familiar with Algeria and the fact that the trade between the two countries doubled during the year 2011
"This meeting was also an excellent opportunity to keep the British government informed about the political reforms launched in Algeria, the deepening of the democratic experience, and to exchange our views on more important questions in the regional and international contexts like Syria, the Middle East and Western Sahara".
Over the two days Mr Messahel also met the Foreign Secretary and Foreign Office Minister Lord Howell of Guilford.
Published 9 March 2012