World news story
UK Ambassador takes part in Security Jam 2016
Sir Adam Thomson, UK Permanent Representative to NATO, discussed NATO's role in global partnerships for conflict prevention.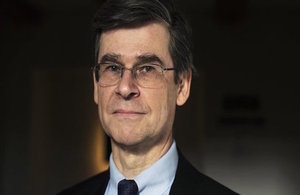 On Monday 25 April, Sir Adam Thomson, UK Permanent Representative to NATO, featured as a VIP participant in Security Jam 2016.
The Security Jam, run by the Brussels based think tank Friends of Europe, is a global brainstorm held entirely online. It unites thousands of experts on security, human rights and development from government, international organisations, NGOs, academia, business and the media to develop innovative solutions to global security challenges. The Jam took place between 25 - 28 April.
Ambassador Thomson participated in a session on 'Global Partnerships for Conflict Prevention'. You can read his opening remarks below.
OPENING REMARKS
Good afternoon. Thank you Friends of Europe for inviting me to participate in the Security Jam. I'm really looking forward to the discussion.
Why conflict prevention? 2014 was a shocking wake up call for Europe from its 20 year post-Cold War slumber.
Russia's illegal annexation of Crimea, its destabilisation of the Donbass, the rise of Daesh and the awful terrorist attacks we've seen since, have shown Europeans that we can no longer take our security for granted. The trend since 2014 unfortunately points towards a future of ever complex, unpredictable and evolving threats, from both state and non state actors. We have to work much, much harder at preventing conflict if we want to avoid facing much, much worse.
NATO is adapting to this changed and uncertain security environment, primarily through modernising its deterrence posture. But today I'd like to talk about what NATO is doing and should do to 'project stability' in its neighbourhood. That's where global partnerships come in.
Many of you may think that NATO is just about tanks, planes and ships – this is the strongest military Alliance in the world, after all. But it's much more than that. NATO has an array of political tools at its disposal which, if used properly, can project stability in areas of strategic importance to Euro-Atlantic security.
The Alliance is already doing this, above all with and through its partners – a network of over 40 of them, ranging from Finland to Japan. NATO uses its partnerships to build the resilience of our most vulnerable partner nations, to consult with a range of countries to build situational awareness, and to enhance our 'interoperability' – the ability for us to work better and more efficiently, together. To do this more effectively, NATO must focus its efforts and resources, and work together with its partners to build capacity in those areas where it has niche expertise, such as the training of armed forces.
NATO is also developing its tools for supporting vulnerable partners – in Afghanistan, Georgia, Jordan, with Iraq and elsewhere. We call it Defence Capacity Building. It brings together NATO's civilian and military expertise in defence, security sector reform and training and advice. The work it is doing is vital. But more needs to be done to bring coherence to its activities and resourcing. Capacity Building cannot just be a fair-weather activity in benign environments. It is a central tool in projecting stability and security, which will require work on the ground in challenging circumstances.
NATO is not the answer, and certainly not the whole answer, to every European security problem. So working closely with the EU on projecting stability is of the upmost importance. NATO/EU cooperation has increased markedly in recent years – spurred on by the hybrid threats faced by the member countries of both organisations. This partnership too needs to go much further, be more systematic and more strategic, if we're going to deliver security for all.
So there are some brief thoughts on what NATO is doing and needs to do more to project stability in its neighbourhood.
Now it's over to you.
· Where should NATO be focussing its efforts in projecting stability? · What tools, methods and capabilities do you think the Alliance needs to deliver better security, both east and south? · What practical things can NATO and the EU do together to increase security in their neighbourhood?
Published 21 April 2016
Last updated 11 May 2016
+ show all updates
extra text
Small text change
Picture added
First published.