World news story
UK launches £10 million climate change and environment programme in Sudan
The UK Ambassador, Mr Michael Aron, and the Head of the UK Department for International Development (DFID) in Sudan, Dr Christopher Pycroft, announced on Monday 14th December the launch of a £10 million climate change and environment programme for Sudan, called 'ADAPT!'.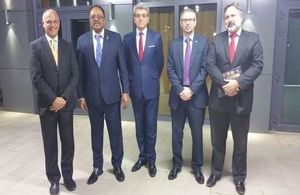 The programme aims to increase the understanding of climate resilience and environmental management in Sudan and to ensure the integration of best practice throughout delivery, planning, and policy. Under the guidance of the UN Environment Programme and working closely with the Minister of Environment, ADAPT! will work with Government Ministries, UN agencies, NGOs, academia and donors to ensure climate and environmental issues are taken into account.
Chris Pycroft, Head of DFID Sudan, said 'this programme will ensure that climate and environmental issues are central to our work. Through ADAPT! together we will help the people of Sudan cope with the inevitable environmental, political, economic and social stresses caused by climate change.'
Climate change is a global issue and needs to be tackled on a global scale. The recent Climate Conference (COP 21) in Paris achieved a historic result with agreement by over 190 countries to limit global warming to less than 2 degrees Celsius. The Sudanese delegation, led by the Minister for Environment, His Excellency Abdul Gader Hilal, committed to a range of actions to combat climate change and reduce the long-term negative effects.
The French Ambassador, Mr Bruno Aubert, thanked Minister Hilal for his personal commitment and that of Sudan for chairing the African Group of Negotiators. He reflected on the achievements, noting the agreement was 'a historic turning point …which will be a global factor of prosperity, growth and sustainable development. Succeeding the "post carbon" era is both a formidable challenge, but also the necessary condition for a more equitable world.'
Mr Bradley Smith, the Head of UNEP, reflected on the challenges for Sudan, noting 'Almost all models developed by UNFCCC scientists, as well as independent climate research on Sahelian countries, show that Sudan is on the frontline when it comes to the likely impacts of climate change. A collective effort is needed to a Sudan supported to adapt to climate change and develop in a climate smart manner.'
The UK through the ADAPT! programme is pleased to support Sudan to achieve these commitments for the benefit of the people of Sudan.
Published 29 December 2015