UK aid to provide vital medicine and surgical equipment to struggling hospitals in Gaza
The UK is providing a new package of life-saving support to help treat patients in 11 hospitals under pressure in Gaza.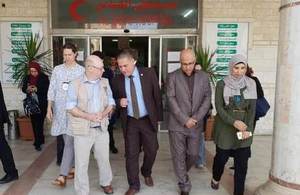 The UK is providing a new package of life-saving support to help treat patients in 11 hospitals under pressure in Gaza, by restocking vital medical supplies including surgical equipment, bandages and medicines following the recent surge in violence.
The funding, announced by Minister for the Middle East Alistair Burt today (Tuesday 29 May) on a visit to Gaza, will support work by the International Committee of the Red Cross to keep hospitals open and functioning at a time when the healthcare system is under huge strain.
Today's commitment of £1.5 million will also help provide physical rehabilitation services for around 4,000 people.
Speaking from Gaza, Minister for the Middle East Alistair Burt said:
I am deeply concerned about the worsening situation in the Gaza strip, and today's UK aid package gives a message to the world, and to the people of Gaza, that we have not forgotten them or their plight.

Today's support will help to ensure that hospitals which are under immense pressure are able to cope with the increased number of casualties who need medical and surgical care. It is absolutely vital that the UK steps up to help those suffering and ensure that vulnerable Gazans are able to access treatment to keep them alive.

We have been clear that a political settlement is the only way to ensure lasting peace for Palestinians and Israelis alike. All parties must redouble their political efforts and return to the negotiating table, not only to address the deteriorating conditions in Gaza, but to ensure tragedies of the past months are not repeated.
UK support is already providing Gazans with access to clean water, and improving sanitation facilities to help stop the spread of deadly disease.
Through the UN Relief and Works Agency for Palestine refugees (UNRWA), UK aid is providing basic health and education to 1.3 million people in Gaza, as well as over 800,000 refugees in the West Bank.
Minister Burt announced in March at the Rome Conference that the UK will deliver its next round of financial support to UNRWA earlier than originally planned to help meet the growing needs of Palestinian refugees across the region.
Notes to editors
Today's £1.5 million package is a new allocation from the Occupied Palestinian Territories programme budget for 2018/19.
General media queries (24 hours)
If you have an urgent media query, please email the DFID Media Team on mediateam@dfid.gov.uk in the first instance and we will respond as soon as possible.
Published 29 May 2018