News story
UK aid supported roads project wins award
Africa Community Access Programme wins Outstanding International Collaboration award at the British Expertise International Awards 2013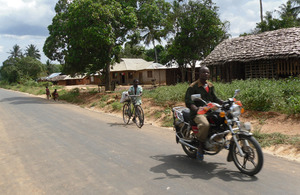 The Africa Community Access Programme (AFCAP), which is funded by the British government to research safe and sustainable access to rural communities in Africa, has won the Outstanding International Collaboration award at this years British Expertise International Awards.
AFCAP is helping to improve rural roads in Africa through research, enabling millions more people in isolated communities to access vital services such as healthcare and education and boost their livelihoods through trade. As a result of their research into the use of local materials and improved techniques, AFCAP has been successful in developing innovative rural road construction and repair methods for low cost, low maintenance rural roads across sub-Saharan Africa.
Lynne Featherstone, International Development minister, said:
"DFID is delighted to have supported such a positive collaboration between British and African engineers, and even more delighted that this collaboration will enable millions of people across Africa to have reliable all-year access to the healthcare, education and markets that they need."
AFCAP works closely with partner governments to strengthen and influence uptake of research into policies and practices in Africa for the construction and maintenance of rural roads. AFCAP aspires to impact on the improved provision and maintenance of over 200,000 km of rural roads in Africa by 2020.
The British Expertise International Awards 2013 recognises and celebrates outstanding international achievements by companies in the UK professional services sector. The Outstanding International Collaboration Award is given to honour an exemplary approach to collaboration between UK companies with international partners; AFCAP is managed on DFID's behalf by Crown Agents.
Published 15 March 2013