UK aid doubles public generosity in charity appeals
Two newspapers launch their Christmas appeals today, helping some of the poorest people in the world to change their lives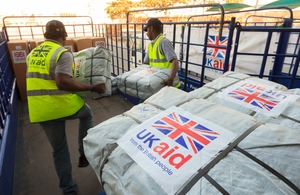 Two newspapers launch their Christmas charity appeals today with the aim of helping some of the poorest people in the world change their lives. And thanks to the Government's UK Aid Match scheme, every pound donated by their readers to their chosen charities will be doubled by UK aid.
City A.M. newspaper, in its first ever Christmas appeal, has chosen to support Opportunity International UK, a charity specialising in microfinance for developing countries. The appeal aims to raise the funds needed to help Opportunity International bring microloans and savings accounts to thousands of people in one of the poorest regions of Southern Malawi, allowing them to grow their businesses and provide for their families.
Meanwhile, the Financial Times seasonal appeal will this year raise money for Sightsavers, to help change the lives of blind and visually impaired people in the developing world. Sightsavers works in more than 30 developing countries to prevent and cure blindness, and to support those who are visually impaired through education and training.
International Development Secretary Andrew Mitchell said:
The British public has repeatedly shown its generosity during tough economic times, supporting charities' life-altering work in some of the world's poorest countries. We are responding to that generosity of spirit by matching public support for these appeals pound for pound.

We will help Opportunity International double the impact of its work to create jobs and income and provide twice as many people with the financial services so often out of reach for those in the developing world.

Our support could help Sightsavers provide tens of thousands more trachoma operations and hundreds of thousands more eye examinations, giving children a better chance of completing their education, of finding a job, and ultimately of achieving a brighter future.
The City A.M. and FT appeals were awarded match funding through the Government's UK Aid Match scheme. By matching public generosity to the selected appeals, the scheme gives the public a say in how a part of the aid budget is spent.
In August, Save the Children's ITV Born to Shine appeal was the first to be backed by the scheme. Last night Save the Children announced its final appeal total of £2.1million, which includes £500,000 of UK aid towards projects in Liberia and Niger.
To donate or bid in the City A.M. and Opportunity International appeal online auction, visit www.cityam.com/appeal
To support the FT and Sightsavers appeal go to www.sightsavers.org/ftappeal.
Published 21 November 2011