UAVs reaping benefits in Afghanistan
The RAF's Reaper unmanned aerial vehicles (UAVs) are the eyes in the sky keeping tabs on the insurgency in Afghanistan. Report by Andrew Simms.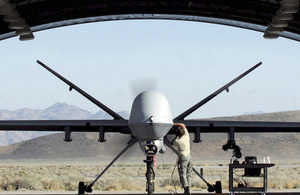 Bunkered down for the evening in a remote rural compound, a group of insurgents masquerading as Helmand farm workers has prepared thoroughly for the prospect of unwelcome midnight callers.
Before taking to makeshift beds, the Taliban fighters stashed their small arsenal of firearms and explosives in a drainage duct close to the structure's rear gate, draped heavy blankets over their motorcycles and buried radio sets in a cow's feeding trough.
These acts of subterfuge, designed to deceive any passing International Security Assistance Force patrols, were in vain.
Betrayed by their panicked reaction to the distant clatter of helicopter rotors an hour previously, the distinctive shape of their concealed AK-47s and the heat still radiating from their bikes' engines, the true identity of the group was already known to the coalition troops closing in on their position thanks to the three-man crew operating the fearsome British MQ-9 Reaper circling undetected above.
Capable of providing a persistent presence over an area of interest and relaying intelligence to commanders on the ground in the form of clear, full-motion video or verbally over the radio, it is little surprise that the Royal Air Force's cutting-edge Remotely Piloted Air System and the specialists who fly it are in such high demand.
Introduced to theatre in October 2007 as an urgent operational requirement, the aircraft have gone on to notch up a landmark 25,000 flying hours over Afghanistan.
Equipped with an array of hi-tech sensors, including radar, that collect real-time information on the battlespace day and night, Reaper can carry out a wide variety of sorties in support of ground units.
These can range from gathering pre-raid intelligence on target compounds to providing surveillance for routine patrols and supply convoys.
If necessary, the aircraft can also strike at insurgent forces with precision-guided weapons.
With a maximum altitude of 50,000ft (15km) and powered by a Honeywell engine that offers a low noise signature for discreet operations, Reaper is routinely providing front line troops and commanders with an unblinking eye in the sky.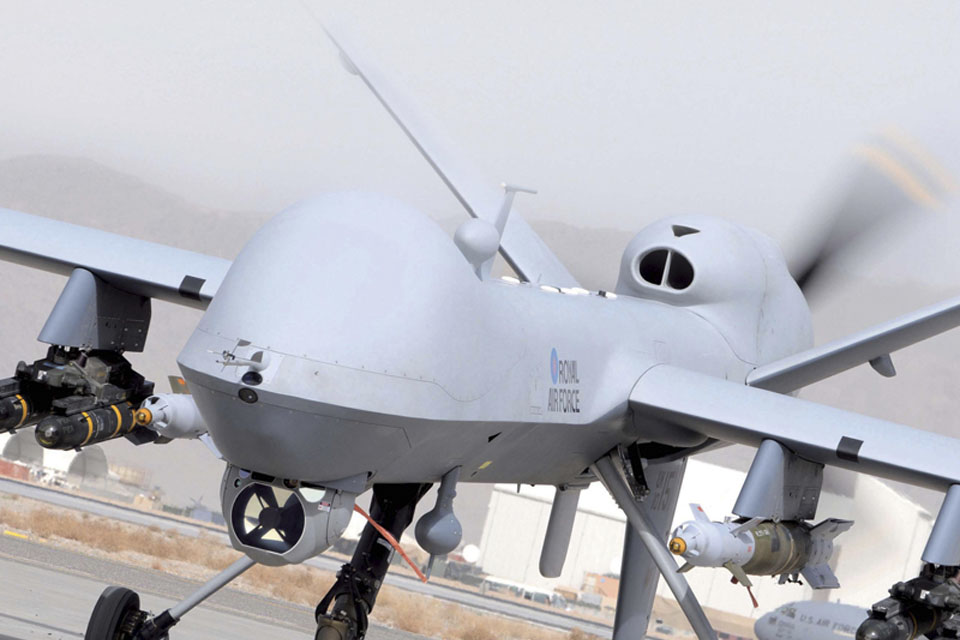 The aircraft is launched and recovered from Kandahar Airfield; however, once airborne, missions are flown remotely by crews from 39 Squadron RAF via secure satellite communication data links from a ground control station at the Creech Air Force Base in Nevada, USA.
The three-strong teams charged with flying this sci-fi-style surveillance system and pointing it where those they are supporting on the ground want it consist of a qualified pilot, sensor operator and mission intelligence coordinator (MIC).
With a small contingent of seven Intelligence Corps personnel bolstering the 130-strong, tri-Service squadron stateside, it is from the 'cockpit's' third seat that the Army is playing its part in the Reaper success story.
Sat in front of a bank of monitors, the crew's MIC is exposed to a plethora of data sources ranging from pictures obtained from the aircraft's own sensors, mapping and satellite imagery to a complex secure communications system - the military equivalent of an internet chatroom relaying the very latest action from theatre:
During a mission, the MIC's role is to manage intelligence-collection to meet the supported unit's requirements, to monitor the feeds and inform the pilot of any relevant information," Major Simon, second-in-command of mission support flight, said.
To simply look through sensors with no situational awareness would be like looking at a scenario completely blind - it is all that other information which puts what Reaper can see into operational context.
The MIC is an integral part of the crew and the pilots would not want that person sat external to the ground control station," he added.
While the pilots and sensor operators are just as capable of identifying weapons and insurgent tactics, the crew members' experiences complement each other.
The tri-Service nature of the squadron works very well.
This is a sentiment shared by Wing Commander Andy Bird, Officer Commanding 39 Squadron, who added:
They [Intelligence Corps personnel] are of outstanding value. They bring an insight into supporting the Army that we as members of the RAF wouldn't intuitively have.
That is considerably useful experience and they are able to talk to their Service counterparts in a way that, perhaps, we wouldn't - it breaks down initial barriers.
With the squadron's intelligence specialists also responsible for ensuring crews are fully briefed before each tasking and distributing any products post-mission, Major Simon insists that working with Reaper offers a unique opportunity:
It is a tremendous asset," he said. "I first saw its predecessor, Predator, operate in 2006, and was amazed at its capability then. Five years on and Reaper is at the forefront of the remotely-piloted aircraft system community. To be at the cutting-edge of technology is very exciting.
I've visited theatre a number of times and on some of the bigger bases you can feel remote from the campaign and what soldiers on the ground are doing day-in, day-out.
Although we are so far away geographically, the fact that we can see soldiers patrolling and interact with them directly makes you feel very much part of the operation.
The Army officer's passion for the aircraft is shared by those who pilot them, many of whom have joined the squadron from a fast jet background.
Having been embedded with 16 Air Assault Brigade on Op HERRICK 8, one Squadron Leader on 39 Squadron has first-hand experience of the demand for the platform. The previously qualified Tornado pilot said:
It was my time working with the Army that sold Reaper to me. Although I didn't work directly with the crews, I was talking to the battle groups about what they wanted for a particular mission and the majority of the time they were asking for Reaper.
I have seen it from a land perspective and am therefore aware of the value that the aircraft provides.
It has a lot of persistence and the guys flying it have a strong understanding of the terrain beneath them. If there is something about to happen, Reaper can be there six or seven hours beforehand and provide a strong appreciation of the picture on the ground prior to a raid or helicopter assault going in.
Already a proven asset in the ongoing mission to detect and, where necessary, destroy insurgent targets and improvised explosive device networks, there is set to be no let-up for those in Helmand with something to hide.
With £135m committed to doubling the amount of UK Reapers currently patrolling the skies, British forces will soon have increased capacity to conduct long-endurance stake-outs 24-hours-a-day, seven-days-a-week.
Published 25 October 2011