Press release
Typhoon Haiyan: UK disaster response update
The UK government's humanitarian relief effort includes food, shelter, clean water, medicine and other supplies for up to 800,000 victims.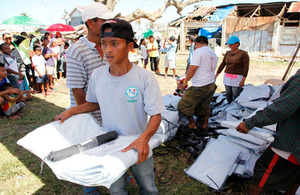 UK government food, shelter, clean water, medicine and other supplies is reaching up to 800,000 victims of Typhoon Haiyan.
Based on the latest information from the Department for International Development (DFID) field team in the Philippines, released for the first time, the UK government relief efforts has so far delivered the following:
eight UK government commercial and military flights have delivered 17,488 shelter kits, 38,569 tarpaulins, 16,230 hygiene kits, 5,925 jerry cans, 9 4x4s and 3 rough-terrain fork-lifts

DFID is helping 130,000 people construct emergency shelter, feeding more than 175,000 people, giving 250,000 people clean water or basic hygiene and helping deliver millions of pounds worth of essential medicines

the UK's support to the UN and Red Cross appeals is also delivering vital supplies to more than 500,000 victims of the typhoon and helping teams on the ground to coordinate relief efforts.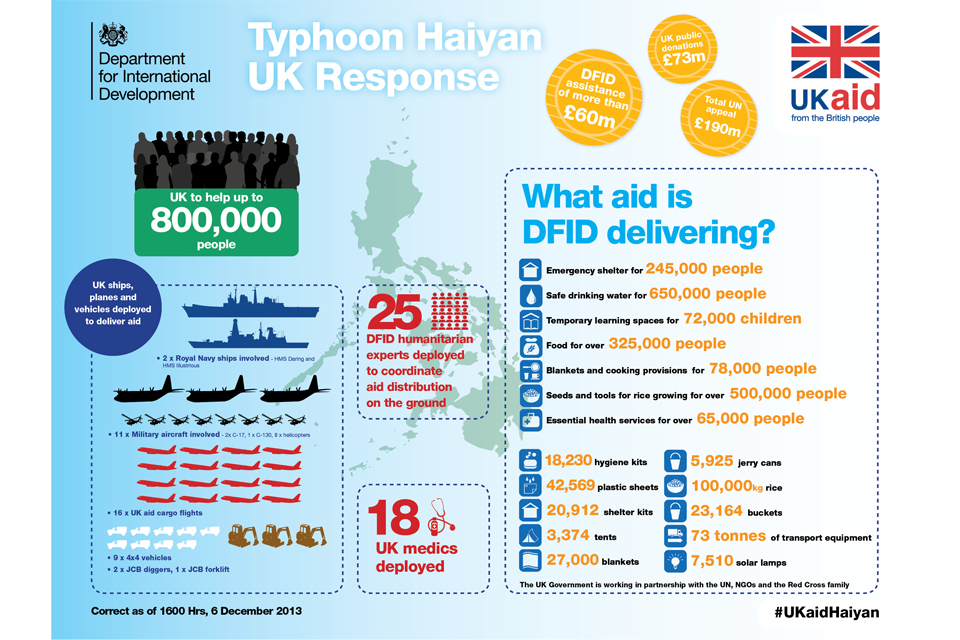 DFID funding, activated through the Rapid Response Facility in the hours immediately following the typhoon, is getting £8 million in emergency aid to be distributed by leading humanitarian charities. This DFID support means:
International Development Secretary Justine Greening said:
The British government is providing vital aid directly to those that need it with the help of charities on the ground. Since the Typhoon hit and we activated the Rapid Response Facility, DFID has helped charities to immediately scale up their response.

On top of this, we have harnessed military assets including cargo planes and logistical equipment to ensure aid not only gets to the Philippines but reaches the neediest people in the most remote parts of the country.
Individual charities will be responsible for delivering relief items and coordinating their response on the ground.
Responding swiftly in humanitarian disasters ensures that more lives are saved and suffering reduced. Established in March 2012, the UK's Rapid Response Facility is a network of pre-approved specialist aid organisations and private businesses who can rapidly deliver emergency medical, water and sanitation assistance to affected people. It enables the UK government to commit to rapid humanitarian funding to these pre-qualified partners.
Notes to editors
The Department for International Development's infographic on the delivery of UK aid to the Philippines is available on DFID's Flickr stream

The UK is providing more than £50 million in disaster relief for the Philippines. Our humanitarian support will help up to 800,000 people in the wake of Typhoon Haiyan. See here for latest updates: www.gov.uk/government/news/typhoon-haiyan-latest-updates-on-uk-aid.
General media queries
Follow the DFID Media office on Twitter - @DFID_Press
Published 21 November 2013
Last updated 9 December 2013
+ show all updates
Infographic updated
First published.