Press release
Typhoon Haiyan: Greening hails range of business contributions to relief effort
British companies support the UK's response to Typhoon Haiyan by donating their time, cash and equipment towards the humanitarian effort.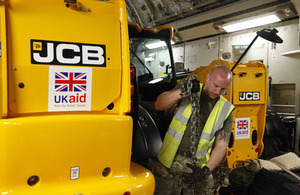 British businesses donating their time, cash and equipment to the Philippines relief effort have been praised by International Development Secretary Justine Greening today.
UK companies are finding a range of ways to offer their support to the survivors of Typhoon Haiyan. As well as making their own donations, businesses are using their large consumer networks to raise funds. Companies have also supplied crucial equipment that will help get aid moving faster on the ground.
Businesses that have pledged their support include:
Alliance Boots, which owns high street pharmacy chain Boots, is donating medical supplies through the relief agency International Health Partners
easyJet has launched an emergency appeal with UNICEF and will collect onboard donations from passengers
British digger maker JCB, which has provided $500,000 worth of aid and sent 120 electrical generators that are powering community buildings, including hospitals and local authority premises. The company is also sending a fleet of backhoe loaders to help in the clear up operations
East Midlands Airport has suspended aid flight charges and several airlines have donated cargo space including British Airways and Emirates
mobile network operator EE has also launched a text appeal and donation website to raise funds for UNICEF's appeal, while H&M is asking shoppers in their 200 UK stores to put spare change in buckets at tills
other businesses including HSBC, Marks & Spencer, Unilever, Manchester United and Burberry have all made generous contributions
Justine Greening said:
Yet again we have seen the immense generosity of the British public at times like this, with donations to the Philippines already reaching more than £50million, and now British businesses are stepping up too.

A number of companies are supporting the UK's response to Typhoon Haiyan, working round the clock to get vital equipment on the ground as quickly as possible, and several airlines are flying out aid for free. Companies are also launching initiatives of their own such as Easyjet's onboard appeal or JCB sending loaders to clear the roads and generators to help switch the power back on.

This is a great British effort and the whole country is coming together to help the people of the Philippines at this devastating time.
A number of British companies have supplied DFID with vital equipment for providing fresh water, fuel and for clearing the roads on the ground in the Philippines:
To help with logistics, Wolfe European are providing the haulage of many of these items around the UK. Companies have delivered against tight time frames, including night shifts, at no extra cost, in order to ensure aid reaches the people of the Philippines as quickly as possible.
JCB Chairman Lord Bamford said:
British charities, the British government and the British public are all coming to the Philippines' aid in this desperate time and it's right that British businesses do their bit.

I hope JCB's contribution to the relief effort will help, in some small way, those who are bearing the brunt of this disaster. One of the main challenges facing rescue workers is clearing roads in the affected areas and the JCB equipment is exactly the right machine for the job of removing debris.
Carolyn McCall, easyJet's Chief Executive said:
All of the UK is coming together to help the Philippines at this desperate time, so as the UK's largest airline, we are in a very strong position to help the people affected by Typhoon Haiyan. Everyone at easyJet has been deeply moved by the scenes of devastation in the Philippines, and that is why we have launched an on-board emergency appeal on behalf of our charity partner UNICEF. To get the appeal started we have donated £20,000.

We hope our support, and the generosity of our passengers, will help make a difference to the communities affected.
General media queries
Follow the DFID Media office on Twitter - @DFID_Press
Published 21 November 2013