Tyger of London report published
Keel failure and capsize of a UK registered charter yacht off Punta Rasca, Tenerife.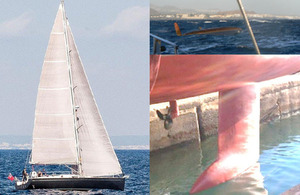 Our investigation report into the keel failure and capsize of the UK registered charter yacht Tyger of London off Punta Rasca, Tenerife on 7 December 2017, is now published.
The report contains details of what happened, the subsequent actions taken and the recommendation made: read more.
Statement from the Chief Inspector of Marine Accidents
This report builds on the Safety Bulletin the MAIB issued last year, and there are some important safety lessons for all yacht owners and operators to consider during the winter maintenance period.

The failure of Tyger of London's keel is a timely reminder that a yacht's keel is a safety critical item, and it should be surveyed and inspected regularly with this in mind.  If owners have any doubt about the design or condition of the keel or its securing arrangements, they should seek specialist advice without delay.

Although Tyger of London's crew were rescued promptly, that they were wearing lifejackets when the yacht capsized helped ensure they survived the initial immersion and kept them afloat to be rescued. A life jacket is useless unless worn and, if rescue is not close at hand, enhancing it with a sprayhood and Personal Locator Beacon makes a great deal of sense.

Finally, when deciding where to stow the life raft and grab bag, consider how the crew will retrieve them if the unthinkable happens and the yacht inverts.
Press enquiries
Press enquiries during office hours 01932 440015
Press enquiries out of hours 0300 7777878
Published 31 October 2019