Two years to go until London 2012 Paralympic Games
The Foreign Office has marked the occasion by launching a short film featuring one of the UK's most successful Paralympians, Baroness Tanni Grey-Thompson DBE.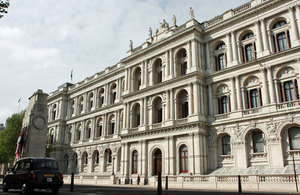 Today marks two years to go until the start of the London 2012 Paralympic Games. The milestone is a particularly special moment for the UK, as the country that hosted the first Paralympics in 1948, putting disability sport on the map. In terms of size, scale and organisational complexity the Paralympic Games is the world's second biggest sporting event, involving 4000 athletes from 150 countries competing in 470 events over 11 days.
This time, the UK has set out to host the most accessible Olympic and Paralympic Games ever. And is determined to use the 2012 Games to help change the way the world views disability and encourage a more open and inclusive society.
When London won the right to be host, the UK promised to welcome the world to "Everyone's Games." Delivering a highly accessible event with world-class facilities for disabled people is just part of that commitment.
The Foreign Office is marking the two year point by launching a short 'See Britain' film with one of the UK's most successful Paralympians, Baroness Tanni Grey-Thompson DBE. Tanni has enjoyed incredible success over the course of her career, winning 11 Paralympic Gold medals and the London Wheelchair marathon six times. Watch her short film below.
In the 'See Britain' film, Tanni comments on how far the UK has come in 35 years in terms of the provision of disabled facilities and access, and how the UK today demonstrates what an inclusive society can look like. She hopes the 2012 Games will be used as a platform to showcase to the world what is possible to achieve both on and off the track.
Meanwhile, the London Organising Committee for the Olympic Games (LOCOG) is also marking two years to go until the 2012 Paralympic Games. Chris Holmes, LOCOG's Director for Paralympic Integration and Britain's most successful individual Paralympic Swimmer, will be at the Team GB Paralympic training camp in Bath today to check on the progress of a number of medal hopefuls. The Paralympic Mascot Mandeville will also be in attendance as the countdown to the 2012 Paralympics continues.
With more athletes and teams destined to compete in London than at any previous Paralympic Games, the UK London 2012 team is determined to provide the facilities and audiences to spur the athletes on to achieve extraordinary feats.
The Olympic Games will run from 27 July 2012 until 12 August 2012. The Paralympic Games will be held from 29 August 2012 to 9 September 2012. With just two years to do it could be time to consider how you might like to be part of the 2012 Games.
Published 29 August 2010