News story
Two jailed for Hull sham marriage plot
Home Office officials arrest couple minutes before 'sham wedding' was due to take place at Hull registry office.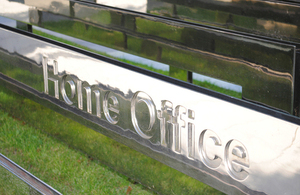 Two people who attempted to stage a sham marriage at a Hull registry office were jailed at Hull Crown Court on Thursday (11 July).
Nigerian Jayeola Abiola, 27, and his would-be bride Vania Pinheiro Fernandes, a 29-year-old Portuguese, were arrested by Home Office Immigration Enforcement officers moments before their wedding was due to start at the Guildhall, Hull on 8 November 2012.
Officers were alerted by a registrar who became suspicious that the couple appeared to know very little about each other during a pre-marriage interview. The court heard how Abiola had selected the Celine Dion song 'The First Time Ever I Saw Your Face' to be played at the ceremony.
A Home Office investigation revealed that Abiola, whose student visa was about to expire, had paid around £3,000 for the wedding in a bid to cheat immigration law and stay in the UK.
Following their arrest Abiola, of Grafton Street, Hull, and Fernandes, of Buckley Road, Manchester, admitted that they had met on just two occasions, one of which was the day of the ceremony. The pair pleaded guilty to conspiracy to breach immigration law at Hull Crown Court in April this year. They were today sentenced to prison terms of 12 months (Abiola) and 8 months (Fernandes).
The Home Office will seek to remove Mr Abiola at the end of his sentence.
Mark Bates, from the Home Office Criminal and Financial Investigation (Immigration) team, said:
These sentences show that those who attempt to cheat immigration law by abusing the marriage system will be caught and brought to justice.

We work closely with registrars across the region, and where we have reason to believe a wedding may not be genuine we will, if necessary, intervene.

I am also very keen to trace a fifth person, Mr Gbenga Oni, in connection with these offences. If anyone has information about Mr Oni's whereabouts I would urge them to contact us, or Crimestoppers, and all information will be treated in the strictest confidence.
A sham marriage or civil partnership typically occurs when a non-European national marries someone from the European Economic Area as a means of attempting to gain long-term residency and the right to work and claim benefits in the UK.
Anyone with information about immigration crime can contact Crimestoppers on 0800 555 111 anonymously.
Published 11 July 2013