News story
Two Ebola vaccines are being tested in Liberia and Guinea
Watch Professor Adrian Hill talk about the trials the Ebola vaccine went through at the Jenner Institute, Oxford University.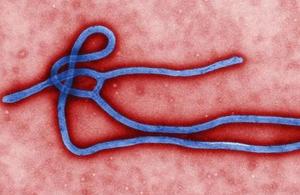 There is no licensed medicine or vaccine for Ebola, but several products are under development.
Two vaccines are being tested in humans in Liberia and Guinea. One of them, called ChAd3-ZEBOV, is being developed by GlaxoSmithKline together with the United States National Institute of Allergy and Infectious Diseases.
The UK government, alongside the Wellcome Trust and Medical Research Council, is co-funding these clinical trials. Vaccines go through several phases of trials – phase 1 trials of this Ebola candidate vaccine were carried out by the Jenner Institute at Oxford University in late 2014.
In this clip, Professor Adrian Hill talks about the vaccine's trials, and describes how the process was speeded up to ensure that trials could start in the affected West African countries earlier this year.
Published 20 March 2015