World news story
Twenty-first Special Session of the Human Rights Council, Geneva, 23 July 2014
UK Statement on Gaza delivered at the UN Human Rights Council.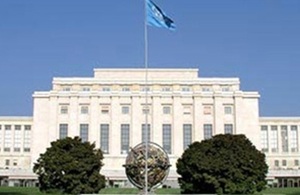 Thank you Mr President, and thank you to our UN colleagues with you on the podium for their sobering briefings.
Mr President, we share the grave concerns we've heard expressed in the Council today about the escalation in violence in Gaza and Israel. The conflict is taking a terrible toll, as the High Commissioner outlined. It is deeply tragic that so many innocent civilians, including women and children, have been killed and injured. The people of Israel have the right to live without constant fear for their security. The people of Gaza have the right to live safely in peace.
I support the EU statement. The UK too condemns the appalling attacks being carried out by Hamas and other militant groups, and their rejection of international efforts to secure a ceasefire. We heard many voices raised today in condemnation of these attacks, though it is a pity that the condemnation was not universal.
Israel has the right to defend herself. The British Prime Minister set this out clearly in Parliament. But it is a principle of international humanitarian law that the use of force must be proportionate. We urge Israel to do everything to avoid civilian casualties, to exercise restraint, and to help find ways to end this crisis. Both sides must do their utmost to deescalate the situation and to avoid further suffering.
As we heard from OCHA and UNRWA, the violence has deepened the already chronic humanitarian situation. Hundreds of thousands of vulnerable civilians in Gaza are suffering as a result. All sides must do everything they can to protect these people, and allow unhindered access for humanitarian supplies.
The British Government has increased our funding as the humanitarian situation worsens. The UK will provide an additional £2m (3m dollars) to help the UN Relief &Works Agency provide immediate emergency assistance. We are also bringing forward £3m (some 5m dollars) in funding to the ICRC to provide emergency health care. I take this opportunity to stress that the inviolability of UN premises should be respected: they should not be targeted but at the same time they must not be used to store weapons.
Our urgent priority is to bring the violence and suffering to an end. The new British Foreign Secretary, the Rt Hon Philip Hammond MP, is visiting the region.
The UK welcomes Egyptian efforts to help secure a truce. We urge Egypt to persist with these efforts, and for others to work with them to establish a durable ceasefire. We await, with hope, the outcome of the UN Secretary General's efforts and of Secretary Kerry.
It is only by securing a ceasefire, that space can be created to address the underlying issues and return to the long and painstaking task of building the lasting and secure peace and two-state solution that as today's debate has underscored we all want to see.
Thank you, Mr President.
Published 23 July 2014