TV chef Ching He Huang celebrates the open-mindedness of the UK
In a Foreign Office film launched today, Taiwanese-born television chef and entrepreneur Ching He Huang talks about how the open-minded and curious nature of British people has allowed Chinese food and cookery to flourish.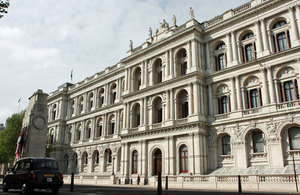 The film is one of the 'See Britain through my eyes' series featuring individuals from abroad talking about their experiences of modern Britain in the run up to the London 2012 Olympic and Paralympic Games. Ching He Huang's film is being released as part of the FCO's celebrations to mark Chinese New Year - the Year of the Rabbit. Watch Ching's story below.
Ching's television work taken her all over the UK and in the film she talks about how the overwhelmingly positive reaction to her Chinese food and cooking techniques has brought home to her how open-minded British people are she travels to the Scottish coast to meet local fishermen and introduce them to new ways of cooking their prize catch monkfish. They embrace both her ideas and her wok.
Ching believes that British food has undergone something of a revolution, incorporating influences from all over the world. Dishes available now are a far-cry from the bland school dinners she remembers when she arrived in the UK. She believes the way British people have embraced Chinese food epitomises their overall open-minded nature and adventurous spirit.
Ching moved to Britain with her family when she was ten years old. She set up her own oriental fresh food business at 21 shortly after graduating from university with a first in economics. Prompted to go into business herself after sampling a disappointing noodle salad from her local supermarket, she believed she could do much better. She started out selling healthy lunches to a handful of blue-chip companies in London and her business grew from there.
Ching found the UK was very supportive of her entrepreneurial aspirations. Her reputation spread and before long she was invited to demonstrate her Chinese Cookery skills to the nation on TV and given her own cookery series. She has become a widely recognised television personality and remains personally committed to making Chinese food more accessible.
Published 3 February 2011