World news story
Turning the Games into Gold
UK Government announces almost £10 Billion Economic Boosts.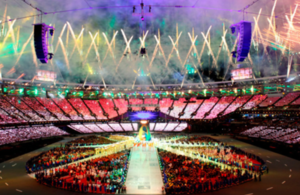 The UK economy has seen a £9.9bn trade and investment boost from the London Olympic and Paralympic Games, one year into a four-year programme of activity and events.
The boost comes from businesses securing contract wins, additional sales and new foreign investment in the last year, since UK Trade & Investment's (UKTI) British Business Embassy at Lancaster House hosted a Global Investment Conference and a series of 17 business events – the largest such programme ever held in Britain.
UKTI's target is to deliver £11bn of economic benefit from the London 2012 Games by July 2016, from additional exports, investment into the UK and successful bids for high-value international contracts in a number of sectors. Preliminary UK annual investment figures announced in May showed that in the year of the Games, the UK maintained its position as the leading destination in Europe for foreign direct investment. A report released by UKTI this month shows that the UK is harnessing the Olympic momentum. One year on, the London Olympic and Paralympic Games have helped to generate:
• £9.9 billion of economic benefit from Olympic-related activities, • 31,000 new jobs, • £5.9bn of additional sales from Olympic-related activity such as the British Business Embassy, • £2.5 billion boost to inward investment, • £120 million in deals from the upcoming World Cup and Olympic events in Brazil won by UK companies, • 60 contracts won by UK companies for the Sochi 2014 Winter Olympics and 2018 Russia World Cup.
Prime Minister David Cameron commenting on the release of this report said "This £9.9 billion boost to the UK economy is a reminder to the world that, if you want the best, if you want professionalism, if you want jobs done on time and on budget then you should think British. With companies across the country we are harnessing the Olympic momentum and delivering the lasting business legacy of the Games that will help make Britain a winner in the global race. "But that's not where the good news ends. The games are also delivering a strong social legacy. Last summer, Games Makers changed the way Britain views volunteering. Since then, thousands of people have been inspired to get involved with their local sports clubs."
According to independent research from a consortium led by Grant Thornton, published by DCMS, up to £41 billion could be realised over the fifteen year period from when London won the bid in 2005 to 2020. The report predicts continued benefits from tourism, trade and inward investment as the Games helped improve the world's view of Britain.
Published 25 July 2013