World news story
Turks and Caicos post Cabinet Update
His Excellency the Governor, Peter Beckingham, chaired the meeting of the Cabinet on Wednesday 8 October 2014 on Grand Turk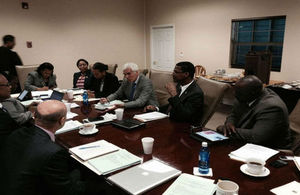 All Ministers were present except Hon. Minister of Finance and Hon. Minister of Government Support Services.
At this meeting Cabinet:
Advised HE. the Governor to approve the 2015 schedule of Public Holidays and Special Days. The schedule will be published in due course;

Approved the terms and conditions of a Memorandum of Understanding (MOU) in relation to Caonabo Resort Development Limited at Governors Beach, Grand Turk. The $165m development would consist of a 250 room branded European plan resort including 14 spa retreat bungalows, 57 condos, 76 residential villas, 11 town homes and 20 bungalows;

Advised HE. the Governor to approve, in principle, the grant of a 99 year lease over Crown Land Parcel 60603/56 to Cargo Express Services Ltd for the establishment of a commercial development in exchange for the transfer of the freehold interest in parcel 60603/58 to the Crown. Approval is granted subject to planning approval being secured and the provisions of the Crown Land Ordinance 2012;

Approved the award of grants to continuing students from the Education Advisory Committee Alternate Scholarship Awards and Grant list;

Received a report from the Minister of Health and Human Services setting out the Ministry's plans to rapidly detect and respond to Ebola Virus Disease (EVD) exposure and to help eradicate mosquitoes to prevent any further spread of Dengue and Chikungunya. Cabinet advised HE. the Governor to approve the Ministry's response plan including access to contingency funds for this purpose;

Received a briefing from the Director, Disaster Management and Emergency (DDME) on the impact of tropical storm Cristobal. Cabinet considered the lessons learned from the response effort and received details of the damage and loss assessment;

Agreed to establish a working group, led by the Minister of Border Control and Labour and the Attorney General, to review the Crown Land Ordinance;

Agreed to establish a working group, led by the Minister of Environment and Home Affairs and the Attorney General, to consider proposals for the establishment of District Boards and local Government arrangements across the islands.
Further information on these matters will be provided by Ministers in due course.
Published 9 October 2014