World news story
Turks and Caicos Post Cabinet Statement
His Excellency the Governor, Dr John Freeman, chaired the 7th meeting of the Cabinet on Tuesday, 21 March 2017, at the N J S Francis Building on Grand Turk.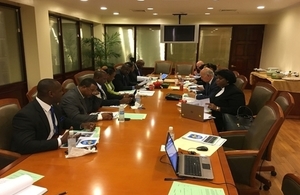 All Ministers were present except the Hon. Deputy Premier.
At this meeting Cabinet:
received a report by the Chief Internal Auditor on the National Health Insurance Board (NHIB) which gave rise to significant concerns. Cabinet agreed that the report should be forwarded immediately to the NHIB who would be invited to comment within seven days before further consideration by Cabinet. Cabinet also agreed that certain recommendations in the report needed to be addressed as a matter of urgency. Cabinet expressed its gratitude for the work of the Chief Internal Auditor on this matter

approved Supplementary Appropriation No.5 for the financial year 2016/2017 for tabling at the next session of the House of Assembly

scrutinised departmental and statutory body budget allocations for the financial year 2017/18 and expressed concern about several individual budget lines which would be subject to further review. Cabinet would discuss budget allocations further at its next meeting

endorsed the draft revenue and expenditure estimates for 2017/18, which are in line with the targets established in the Fiscal Strategy Policy Statement 2017-2020, for forwarding to the House of Assembly for approval once the statutory body budgets have been finalised

approved an exception to Regulation 10 (4) (c) of the International Tax Compliance Regulations 2016 to allow reporting financial institutions to submit electronic returns to the Competent Authority for the Common Reporting Standard (CRS) of financial accounts information for 2016 by 31 May 2017 instead of 31 March 2017 for this first reporting period only, after which the reporting deadline will revert to 31 March each year

advised His Excellency the Governor to extend the contract of the Chief Executive Officer of the TCI Civil Aviation Authority for a period of six months with effect from 1 April 2017 to 30 September 2017

approved an amendment to be made to the Fisheries Protection Regulations to (a) enable seized catches of restricted marine species (eg, parrot fish) or marine products of illegal size, condition or species caught during closed seasons to be donated to appropriate bodies for consumption rather than be destroyed and (b) so as not to deem it an offence for the recipient to be in possession of the donation

noted the recommendations of the Procurement Board to award contracts in line with the Public Procurement Ordinance 2012 as follows – TR 16/22 Installation of lights at the Downtown Ball Park, Providenciales; TR 16/46 Home for domestic violence, Providenciales; TR 16/47 Home for domestic violence, Grand Turk
Further information on these matters will be provided by Ministers in due course.
Published 23 March 2017