Turks and Caicos post Cabinet statement
Governor Peter Beckingham chaired the Turks and Caicos Islands' (TCI) Cabinet on Wednesday, 15th January 2014.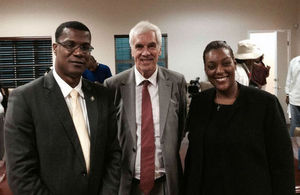 All Ministers were present at session which took place in the Hilly Ewing Building, Providenciales. At this meeting Cabinet:
Reviewed and approved a paper from the Minister of Finance entitled '2014 Business Transformation Strategy: A Reform Strategy for Growth and Empowerment.' The document sets out a strategic roadmap for economic recovery and prosperity in the Turks and Caicos Islands based on improving the business environment over the next 3 years. It is the Government's intention to table the strategy at the next sitting of the House of Assembly;

Reviewed a paper from the Ministry of Finance on Domestic Capital Accumulation Vehicles for Economic Development in the TCI;

Approved a Resolution to be forwarded to the House of Assembly on the Adoption of a Credit Union Policy in the Islands;

Noted the recommendations of the Procurement Board on the award of a contract in relation to the construction of a replacement Dock Jetty for South Caicos. Further details will be provided by the Director of Contracts;

Agreed to a recommendation from the Minister of Education Youth Sports and Library to form a National Youth Advisory Committee consisting of representatives from the following areas: Senior Youth Leader/Representing the Church; the Business Sector; a Leader/Non-Governmental/ Volunteer Agency; a Government Agency; a representative from Tourism and a representative from a Parliamentary Association;

In line with the recommendation of the Minister of Home Affairs, Cabinet approved an Update on the Building Code of the Turks and Caicos Islands pending further review by the Ministry of Home Affairs;

Heard from the Minister of Border Control and Labour (BCL) who raised the issue regarding the grants of cleaning contracts in Middle Caicos. Cabinet agreed that the policy on grants of contracts should be reviewed jointly between the Ministry of BCL and the Ministry of Government Support Services (GSS) to ensure that there is a transparent and fair system of awarding contracts in place. Cabinet further agreed that the Ministry GSS should review the grant of the particular contracts in Middle and North Caicos which were the subject of the demonstrations earlier this week and where it is determined that the contracts were awarded outside the established policy or that the awardee did not possess a Business License on the date the contract was granted, the contract should be cancelled and the awardee struck from the list of approved contractors.
Further details will be provided by Ministers in due course.
Published 17 January 2014