World news story
Turks and Caicos post Cabinet meeting update
Governor Peter Beckingham chaired the meeting of the Turks and Caicos Islands' (TCI) Cabinet on Wednesday, 8 January 2014.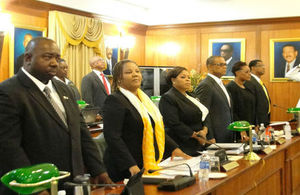 All Ministers were present at the meeting which took place at the NJS Francis Building, Grand Turk.
At this meeting Cabinet:
Advised the Governor to enact the Tax Information Exchange (Amendment) Bill. The Bill gives effect to the Multilateral Convention on Administrative Assistance in Tax matters and provides for retrospective effect in respect of requests made in relation to criminal tax matters. Cabinet further agreed to change the title of the current ordinance to 'Tax Information Exchange and Mutual Administrative Assistance Ordinance;'

Advised the Governor to enact the Retention Tax (Amendment) Bill. The Bill makes provision for a penalty penalising agents who fail to report in terms of section 8 of the Bill;

Advised the Governor to enact the Financial Services Commission (Amendment) Bill. The Bill will enable the Commission to liaise with a competent authority for the provision of information relating to tax matters to enable the competent authority to meet its obligation under a tax related convention or agreement;

Considered the Rehabilitation of Offenders Bill 2014. The Bill provides for the rehabilitation of offenders for certain offences and sentences and for instances where certain convictions and sentences are to be excluded from rehabilitation. The Bill also recognises that there are instances where the right to rehabilitation may be limited and sets out instances where information which is the subject of spent convictions may be used;

Received a presentation from Mr John Williams, Chairman of the Telecommunications Commission setting out the Commission's views on proposed amendments to the Telecommunications Ordinance. Cabinet welcomed the Commissions support for the amendments and the opportunity to better understand the Commission's Operations;

Approved the granting of a license (subject to certain conditions being met and further information being provided) in accordance with the Crown Land Ordinance to Chukka Caribbean Adventures over parcel 10101/24 to operate a Canopy Challenge Course as a tourist attraction on the island of Grand Turk;

Recommended to H.E The Governor the appointment of Mr. Hartley Coalbrooke and Mr David Been as members to a Commission under the Casinos Ordinance.
Further details will be provided by Ministers in due course.
Published 9 January 2014