World news story
TURKS AND CAICOS POST CABINET MEETING STATEMENT
The Acting Governor, Anya Williams, chaired the 18th meeting of Cabinet on 15th July 2015 at the Hilly Ewing Building in Providenciales.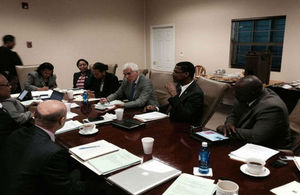 All Ministers were present except the Hon. Minister of Tourism, Environment, Heritage and Culture.
At this meeting Cabinet:
Noted the recommendations of the Procurement Board on the award of contracts under the Public Procurement Ordinance 2012 for repairs to the Governor's residence roof and refurbishment works to the Marjorie Basden High School Science Laboratory on South Caicos;

Considered the recommendations of the Crown Land Advisory Panel to tender the following parcels for commercial lease – 20307/70, 88, 89, 90 and 20308/58 situated on South Caicos;

Advised Her Excellency the Acting Governor to formalise the existing agreement between TCIG and Island Displays to position 16 advertising billboards at specified points of Crown Land along the Leeward Highway in Providenciales subject to payment of fees consistent with the fees structure under the Policy on Advertising Signs on Crown Land;

Advised Her Excellency the Acting Governor to formalise the relationship between TCIG and the University Navstar Consortium (UNAVCO), based at the University of Colorado, through a Memorandum of Understanding to enable UNAVCO to upgrade its GPS station at South Base in Grand Turk. The GPS station measures changes in movements of the earth's crust in earthquake zones and measures climatic changes to improve hurricane forecasting;

Received a presentation by the Ministry of Health, Agriculture and Human Services on progress to manage the Inter-Health Canada Hospital contract to deliver value for money for TCIG;

Reviewed an information paper prepared by the Ministry of Finance, Investment and Trade on progress to establish the "Invest Turks and Caicos Agency" and discussed changes to the organisational structure in the paper;

Approved the introduction of a Sports Development Ordinance and Regulations Bill 2015 to promote and develop sport in TCI;

Approved the proposed Disaster Management Bill 2014 to proceed for debate in the House of Assembly;

Approved dates for the opening and closing of the 2015/16 Caribbean spiny lobster season to run from 15th August 2015 to 15th March 2016 and other measures to enhance the lobster fishery industry;

Reviewed an Aide Memoire submitted by the Caribbean Development Bank (CDB) to form the basis of a Country Strategy Paper for co-operation between the CDB and TCIG on TCI's future economic development and authorised the Hon. Minister of Finance to sign the document on behalf of TCIG;

Approved the proposal to upgrade the Reverse Osmosis Plant in Grand Turk to increase the capacity of water production and distribution across Grand Turk;
Further information on these matters will be provided by Ministers in due course.
Published 16 July 2015