World news story
TURKS AND CAICOS POST CABINET MEETING STATEMENT
His Excellency the Governor, Peter Beckingham, chaired the 17th meeting of the Cabinet at the Hon. Hilly Ewing Building on Providenciales on Tuesday, 30 June 2015.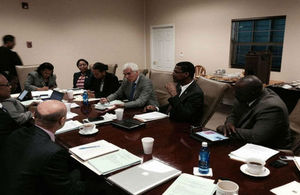 All Ministers were present except the Hon. Deputy Premier and the Hon. Minister of Finance, Trade and Investment.
At this meeting Cabinet:
Agreed the recommendations of the Procurement Board to award contracts for maintenance dredging of South Dock, Providenciales, and for a consultancy to provide the design and technical documentation to tender for the reconstruction and up-grading of the Lighthouse Road in Grand Turk;

Agreed to the signing of a Memorandum of Understanding with Her Majesty's Passport Office in the United Kingdom to provide a framework to enable implementation of Phase 1 of the process for the printing of all TCI passports to be carried out in the UK from 6 July 2015. There will be a public information campaign to highlight the changes to passport issuing procedures;

Received a briefing on the current security situation in TCI by the Commissioner of Police;

Approved a supplementary appropriation bill to adjust the appropriated sums for the financial year 2015/16 to upgrade the 911 and communications systems, fund the setting up of the Financial Intelligence Agency, provide additional protective equipment for the TCI Police and to finance other critical items across Government. The supplementary appropriation bill will be submitted to the UK Secretary of State for approval before being forwarded to the House of Assembly;

Approved a request made by Caribbean Dredging Ltd to conduct sand mining operations at the Boaby Rock Point and Eastern Shoal sites in Grand Turk to extract high grade sand for the local and international markets subject to the applicant meeting planning and environmental laws and other conditions;

Approved the appointment of the Reverend Conrad Howell as a member of the National Health Insurance Board.
Further information on these matters will be provided by Ministers in due course.
Published 1 July 2015