World news story
TURKS AND CAICOS POST CABINET MEETING STATEMENT
His Excellency the Governor, Peter Beckingham, chaired the 12th meeting of the Cabinet on Wednesday, 29th April 2015, at the House of Assembly Building on Grand Turk.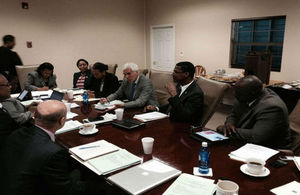 All Ministers were present except the Hon. Premier, the Hon. Minister of Education, Youth, Sport and Library Services, and the Hon. Minister of Tourism, Environment, Heritage and Culture.
At this meeting Cabinet:
Advised HE the Governor to approve the Revised Edition of the Laws (Commencement) Order 2015 which provides for the revision and consolidation of the laws of the Turks and Caicos Islands and for the preparation and publication of the revised laws. The order will proceed to the House of Assembly at their next meeting;

Approved TCIG's participation in the Caribbean Bank's Basic Needs Trust Fund (BNTF) 8th program of grant assistance to the islands. The BNTF is a project jointly funded by the Caribbean Development Bank and the Government of Canada. TCIG first joined the BNTF in 1989 and has benefited tremendously from funding in the areas of education, health and skills training;

Advised HE the Governor to approve a 5 year lease of a building in North Caicos to be used as a Police Station. The building will replace the two buildings currently used for this purpose and will enable the police department to better service the residents of both Kew and Bottle Creek as the station will be centralised;

Advised HE the Governor to approve entering into a lease agreement for a new rental space situated in Butterfield Square, Providenciales, to accommodate the Department of Road Safety for a period of six months. The Department is being temporarily relocated to enable refurbishment works to their current accommodation;

Noted the positive financial performance of the Turks and Caicos Islands Government for the period January to March 2015, as submitted in the Fourth Quarter Financial Report from the Accountant General and approved the publication of the said financial report as required by section 46 of the Public Financial Management Ordinance, 2012;

Reviewed the Turks and Caicos Islands legislative agenda and approved the establishment of a working group to review the following draft Bills; Credit Union Bill, Insolvency Bill and Consumer Protection Bill;
Further information on these matters will be provided by Ministers in due course.
Published 1 May 2015