World news story
Turks and Caicos Post Cabinet Meeting Statement
His Excellency the Governor, Dr John Freeman, chaired the 1st meeting of the Cabinet on Wednesday, 11 January 2017, at the N J S Francis Building on Grand Turk.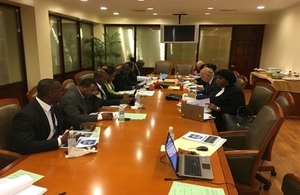 All Ministers were present.
At this meeting Cabinet:
took note of an information paper from the Ministry of Finance on the budget timetable for 2017/18 and received an up-date on the current financial situation from the Chief Financial Officer (CFO);

received an information paper on actions taken and plans going forward to address issues faced by the National Health Insurance Board (NHIB);

noted the recommendations of the Public Procurement Board to award contracts in line with the Public Procurement Ordinance 2012 as follows – TR 16/30 Construction of a new block at the Eliza Simons Primary School; TR 16/32 Consultancy to oversee the development of terms of reference and a draft tender for an integrated electronic land administration system;

advised His Excellency the Governor to approve the issuing of a tender notice for a lease of Crown Land Parcel 50500/90 on North Caicos for the construction of a boutique hotel development and multi-complex recreation and events centre;

agreed to request a letter of entrustment from the British Government to enable the TCI Government to negotiate in its own right with third parties under the terms of the Multilateral Convention on Mutual Administrative Assistance in Tax Matters including on implementation of the Common Reporting Standard (CRS) and on the G20/OECD Base Erosion and Profit Sharing (BEPS) initiative on tax information exchange;

agreed to formalise TCI's membership of the Caribbean Public Health Agency (CARPHA) and for the Governor and Premier to sign the instruments of accession to the Agreement establishing CARPHA.
Further information on these matters will be provided by Ministers in due course.
Published 12 January 2017