Turks and Caicos Islands post Cabinet meeting statement
Her Excellency the Acting Governor Anya Williams chaired the 21st Meeting of the Cabinet held at the Hilly Ewing Building in Providenciales on Thursday July 14th, 2016.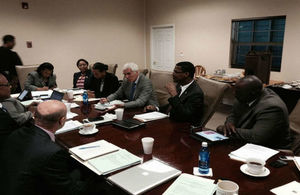 All ministers were present.
At this meeting Cabinet:
Received a briefing from the Commissioner of Police on recent criminal activity;

Under the provisions of Regulation 5A of the Business Licensing Regulations, Cabinet denied a business license application from Fresh Products TCI to operate in a restricted business activity under the Business Licensing Regulations;

Approved a reduction of import duties from 10% to 0 on the importation of materials imported for the private construction of the Venetian Road and Ocean Drive in Providenciales;

Recommended the development of a policy by the Public Works Department, Planning and Ministry of Finance to allow for concessions to be granted for the construction of privately owned primary and secondary roads traversed by the public;

Advised the Ministry of Finance to progress to the Secretary of State the Turks and Caicos Islands Airports Authority proposal for the refinancing of the TCIAA's existing loan in order to facilitate the redevelopment of the South Caicos Airport;

Approved an amendment to Travel Policy pertaining to the local accommodation and subsistence rates in the Turks and Caicos Islands due to increases in the rate structure due to market demand;

Approved the entering of a lease for the Maritime Department at SDR Commercial Center, Unit 107, 176 South Dock Road, Providenciales for a period of 3 years;

Approved the Draft Gaming Policy and the necessary revisions to the Gaming Legislation in order to facilitate the establishment of a Gaming Commission;

Advised Her Excellency the Acting Governor to approve the opening of the 2016-2017 Crawfish Season from August 15th 2016 to March 15th, 2017;

Approved the award of 169 new scholarship and grant awards as per the recommendations of the Education Advisory Committee. Award letters will be available for collection the week commencing July 29th, 2016;

Approved a proposal from Summerhill Developments Ltd to develop a 2 storey condominium hotel of 24 one, two and three bedroom units in the Bight and Thomas Stubbs, Providenciales subject to Planning approval

Recommended the establishment of a policy regarding refurbishments of developments previously constructed under Development Agreements and approved a request from the Sands Resort in this regard.
Further information on these matters will be provided by Ministers in due course.