World news story
TURKS AND CAICOS POST CABINET MEETING STATEMENT
His Excellency the Governor, Peter Beckingham, chaired the 7th meeting of the Cabinet on Tuesday, 1 March 2016, at the Hon. N J S Francis Building on Grand Turk.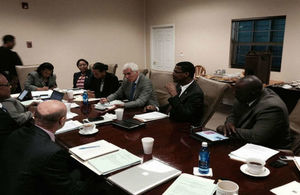 All Ministers were present.
At this meeting Cabinet:
Advised His Excellency the Governor to approve amendments to the Public Finance Management Ordinance (PFMO) 2014 for forwarding to the House of Assembly for approval. The amendments will up-date existing legislation to include reference to TCI adopting the International Public Sector Accounting Standards (IPSAS); to incorporate enabling provisions within the PFMO 2014 to allow the Development Fund commitments to be carried over to the following financial year; and to raise the threshold for expenditure requiring approval by the Chief Financial Officer from $10,000 to $75,000;

Agreed to commission an econometric modelling report by professional consultants on the economic, environmental and other impacts of the possible restriction of imports into TCI of vehicles over 10 years old as well as the possible reduction of the import duty rate on newer or more environmentally friendly vehicles to make newer models more affordable and to help TCI deliver its international climate change and environmental commitments;

Noted the recommendations of the Public Procurement Board to award contracts in line with the Public Procurement Ordinance 2012 as follows – TR 15/13 Replacement vehicle for Central Information Technology Unit; TR 15/15 Replacement garbage truck for South Caicos; TR 15/16 Purchase of a transport vehicle for the EMS (Ambulance) Department; TR 15/22 Design, supply, installation and commissioning of one (1) 50,000 gallons per day salt water reverse osmosis plant on South Caicos; TR 15/26 Vehicles for the judiciary in Grand Turk and Providenciales; TR 15/33 Supply and installation of generators at the Bottle Creek Clinic on North Caicos, the Conch Bar Clinic on Middle Caicos and at the Salt Cay Clinic; TR 15/38 Purchase of vehicles for the Agriculture Department; TR 15/43 Upgrading of sporting facilities at the Gustavos Lightbourne Sports Complex (Grandstand and Weights Room); TR 15/46 Upgrading training and vocational rooms at the TCI Community College; TR 15/47 Construction of a new Community Clinic at Kew, North Caicos; TR 15/65 Replacement vehicle for His Excellency the Governor;

Received a briefing on His Excellency the Governor's proposals to draw on private sector expertise to improve customer service and delivery in the TCI public service;

Received a briefing by the Premier on his recent visit to Brussels to attend the 14th European Union/Overseas Countries and Territories (OCT) meeting.
Further information on these matters will be provided by Ministers in due course.
Published 2 March 2016