World news story
TURKS AND CAICOS POST CABINET MEETING STATEMENT
His Excellency the Governor, Peter Beckingham, chaired the 3rd meeting of the Cabinet on Thursday, 28 January 2016, at the Hon. N J S Francis Building on Grand Turk.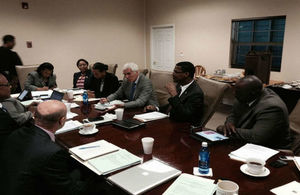 All Ministers were present.
At this meeting Cabinet:
Noted the recommendations of the Procurement Board to award contracts in line with the Public Procurement Ordinance 2012 as follows – TR15/59 Road Development (Glass Shack Road) Construction; TR15/64 IT equipment and network installation for Invest Turks and Caicos, Providenciales;

Approved the appointments to the Board of Governors of the TCI Community College of Ms Sonia Williams (Member) and Ms Rachael Harvey (Secretary);

Agreed to allocate $50,000 from contingency funds to the Ministry of Infrastructure and Housing to carry out emergency repairs at the Ianthe Pratt Primary School in Providenciales;

Agreed in principle, subject to finalising funding arrangements, to split the Department of Environment and Maritime Affairs (DEMA) into a dedicated Department of Environment and Coastal Resources and a separate Maritime Department to strengthen capacity and improve the Maritime Department's management of TCI's maritime obligations and risks;

Received an information paper on progress to formalise a Friendship Agreement between the TCI Government and the Government of Canada and noted engagement with the Commonwealth Parliamentary Association (CPA) of Canada including a visit by a parliamentary delegation of the CPA of Canada to TCI in February 2016 to meet the TCI CPA to further discussions on parliamentary engagement;

Agreed a draft paper for wider consultation to establish a Sovereign Wealth Fund (SWF) for TCI to create a mechanism for setting aside a proportion of future budgetary surpluses to improve fiscal resilience, assist in financing large infrastructure developments and to ensure the future prosperity of TCI;

Approved the terms and conditions of the Policy Based Loan (PBL) Agreement for $5 million from the Caribbean Development Bank (CDB) and authorised the Hon. Minister of Finance to proceed to execute the Agreement with the CDB;

Approved the Terms of Reference to establish a Project Implementation Framework to improve standards of project management and delivery which is a condition of the disbursement of the Policy Based Loan of the Caribbean Development Bank;

Noted the financial performance of the Turks and Caicos Islands Government in the 3rd Quarter Financial Report covering the period October-December 2015 and approved publication of the report as required by Section 46 of the Public Finance Management Ordinance 2012;

Approved a reduction in the value of the performance bond for the maintenance dredging licence for the Thompson Cove entrance channel in accordance with the schedule developed by DEMA to reflect the relative low risk and volumes of the dredging project;

Discussed and approved the financial year 2016/17 budget estimates, subject to some amendments, and agreed these to be progressed through the prescribed process for laying these before the House of Assembly in accordance with the Public Financial Management Ordinance.
Further information on these matters will be provided by Ministers in due course.
Published 29 January 2016