World news story
TURKS AND CAICOS POST CABINET MEETING STATEMENT
His Excellency the Governor, Peter Beckingham, chaired the 24th meeting of the Cabinet on Wednesday, 30 September 2015, at the Hon. N J S Francis Building on Grand Turk.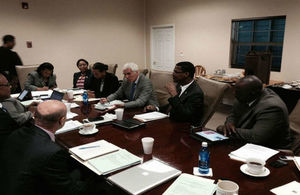 The Hon. Premier and the Hon. Minister of Tourism, Environment, Heritage and Culture were present and the Hon. Minister of Finance, Trade and Investment and the Hon. Minister of Infrastructure Housing and Planning joined by teleconference from Providenciales. The Hon. Deputy Premier, the Hon. Minister of Home Affairs, Transportation and Communication and the Hon. Minister of Border Control and Employment were unable to attend.
At this meeting Cabinet:
Approved the list of public holidays for TCI for 2016;

Approved for public release and dissemination the TCI Foreign Account Tax Compliance Act (FATCA) Guidance Notes for the administration of the Intergovernmental Agreements (IGAs) with the UK and USA to improve international tax compliance;

Discussed the proposed draft Micro, Small and Medium Enterprise Development Bill (2015) and Regulations and agreed that further work would be carried out before bringing the draft Bill and Regulations back to the next meeting of Cabinet for further consideration;

Received a presentation from the Planning Department on the findings of a Consultative Report following public consultation on proposed variations in the height and density of new buildings in Providenciales and, having considered the findings, recommendations and views of the public, instructed the Planning Department to make any necessary changes to the TCI Development Manual and to prepare a paper for the next meeting of Cabinet with proposed recommendations for re-designation of zoning areas for new applications for buildings up to 12 storeys in height;

Agreed to convey to the TCI Airports Authority its support for the construction of a Forward Based Operation (FBO) in Grand Turk and requested the Airports Authority to give urgent consideration to the proposals received for the FBO;

Instructed the Ministry of Finance to produce a paper for approval at the next meeting of Cabinet to introduce zero-rated import duty for individuals and businesses in TCI to purchase and import CCTV security equipment for domestic and commercial properties;

Agreed that the Governor, Premier, Police Commissioner, and Minister of Border Control would meet on 14 October for a meeting of the National Security Council, proposed by the Police Commissioner. They would, in addition to considering responses to current security risks and longer term strategies, finalise membership of the proposed wider National Security Advisory Council to include representatives from the Opposition, and the business, education and church communities.
Further information on these matters will be provided by Ministers in due course.
Published 2 October 2015