World news story
TURKS AND CAICOS POST CABINET MEETING STATEMENT
His Excellency the Governor, Peter Beckingham, chaired the 23rd meeting of the Cabinet on Tuesday, 22 September 2015, at the Hon. Hilly Ewing Building on Providenciales.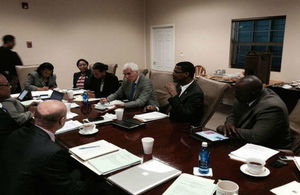 All Ministers were present.
At this meeting Cabinet:
Approved the recommendations of the Procurement Board to award contracts in line with the Public Procurement Ordinance 2012 as follows – TR15/1 West Road Fish Market Phase 2; TR15/2 Repair of Facilities at Boiling Hole South Caicos; TR15/4 Border Control Building (Sammy Been Building) Refurbishment Phase 2; TR15/8 Upgrade of Bathrooms at Mary Robinson Primary School, Salt Cay; TR15/18 Consultancy for the Implementation of Legislative and Regulatory Framework for the Energy Sector; TR15/29 Long Bay High School Phase 2; TR15/32 Upgrading of Bathroom Facilities at the Helena Jones Robinson High School in Grand Turk;

Approved a draft Request for Proposal to be issued to financial institutions for the refinancing of the residual balance of the $170 million loan bond due in February 2016;

Advised His Excellency the Governor to approve a 3rd Supplementary Budget Appropriation for the financial year 2015/16 to meet urgent transactions and unforeseen policy/regulation changes to be forwarded to the UK Government for approval and then subsequent transmission to the House of Assembly and Appropriations Committee for consideration;

Agreed that TCI should offer to host the Annual Meeting of the Board of Governors of the Caribbean Development Bank in May 2017;

Advised His Excellency the Governor to appoint Mr Oswald Williams as a member of the Immigration Appeals Tribunal with effect from 1 September 2015;

Advised His Excellency the Governor to appoint Mr Arthur Forbes as President of the Labour Tribunal for a period of one year with effect from 1 September 2015;

Acknowledged the variation of the Stevedoring Tariff that took effect on 1 September 2015 in accordance with the Stevedoring Agreement 2008 and subsequent amendments;

Endorsed the fiscal targets set out in the annual Fiscal Strategic Policy Statement for 2016/17, which includes the fiscal targets of the TCI government for the next four years, to be forwarded to the UK Government for approval. The targets will be the basis on which the 2016/17 revenue and expenditure estimates are prepared;

Agreed the development and publication of a Request for Proposal to provide estimates for the provision of streets and parks cleaning services in Grand Turk and Providenciales;

Agreed the development of a Plastic Bag and Styrofoam Eradication Programme based on developed policy options and guided by stakeholder consultations;

Received an up-date by the Ministry of Tourism, Environment, Culture and Heritage on proposed amendments to the National Parks Ordinance ahead of the document being issued for public consultation by 30 October 2015;

Approved the appointment of Mr Walter Gardiner as CEO of the National Insurance Board in accordance with Section 34 (1) of the National Insurance Ordinance 2009.
Further information on these matters will be provided by Ministers in due course.
Published 24 September 2015