TURKS AND CAICOS POST CABINET MEETING STATEMENT
The Governor, Peter Beckingham, chaired the 20th meeting of Cabinet at the Hon N J S Francis Building on Grand Turk on 28 July 2015.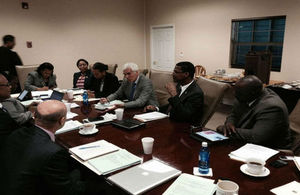 All Ministers were present except the Hon. Minister of Infrastructure, Housing and Planning and the Hon. Minister of Home Affairs, Transportation and Communication.
At this meeting Cabinet:
Considered proposals from CMK Sailrock Ltd related to the acquisition of property from the former High Point development on South Caicos;

Agreed to mutate parcels of Crown Land on South Caicos and Providenciales which were vested in the Ports Authority under the Ports Authority Ordinance; and to amend the Ports Authority Ordinance to vest additional parcels of Crown Land on North Caicos to the Ports Authority which were acquired for the operations of the ports;

Discussed and noted another strong financial performance by the Turks and Caicos Islands Government for the first quarter of the financial year 2015/16. Further information will be released shortly;

Approved a request by North West Point Development to carry out maintenance on the public road to North West Point on Providenciales and agreed to donate 50 loads of quarry material from the airport stockpile necessary to maintain the road;

Approved the inclusion of an Anti-Bribery Bill in the Government's legislative agenda;

Received an information paper prepared by the Department of Environment and Maritime Affairs on stakeholder feedback on the proposed changes to the Fisheries Protection Ordinance which will be discussed further at the next meeting of Cabinet;

Considered proposed language for inclusion in a draft development agreement related to Ambergris Cay.
At its meeting on 21 July 2015, Cabinet considered a proposal from the Crown Land Advisory Panel for a residential development on parcels 6113/180-191, 312-340 and 343-376 situated at Long Bay Hills, Providenciales.
Further information on these matters will be provided by Ministers in due course.
Published 29 July 2015