World news story
Turks and Caicos Post Cabinet Meeting Statement
His Excellency the Governor, Dr John Freeman, chaired the meeting of the Cabinet on Wednesday, 1 November 2017, at the N J S Francis Building on Grand Turk.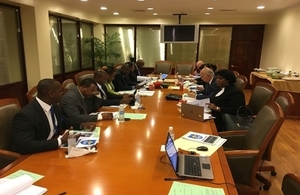 All Ministers were present except the Hon. Deputy Premier.
At this meeting Cabinet:
received from the Hon. Premier, as Minister of Finance, an up-dated revenue and expenditure budget forecast for the remainder of the fiscal year post Hurricanes Irma and Maria including possible measures to address current and projected revenue shortfalls. Cabinet requested that the Ministry of Finance submit a paper following consultation with relevant departments setting out specific recommendations for expenditure reductions and new revenue streams

advised His Excellency the Governor to approve conditionally Planning Application PR 12887 by Sky Poultry Farm for outline development permission and change of zoning from Medium Density Residential Class C to Agriculture Related Development over Parcel 60509/3 on Providenciales in accordance with the Physical Planning Ordinance 2014 for the development of a chicken farm

approved the implementation of an Order made by the Hon. Minister of Finance under Section 70 (1)(C) of the Customs Ordinance CAP 19.04 to waive import duties on furniture and appliances imported by individuals into TCI during the months of November and December 2017 to mitigate the effects of damage caused to household furnishings and appliances as a result of Hurricanes Irma and Maria

noted the recommendation of the Procurement Board to award contract TR17/24 for the installation of fencing at South Dock Port in Grand Turk in line with the Public Procurement Ordinance 2012.
Further information on these matters will be provided by Ministers in due course.
Published 3 November 2017