World news story
Turks and Caicos Post Cabinet Meeting Statement
His Excellency the Governor, Dr John Freeman, chaired the 6th meeting of Cabinet on Wednesday, 7 March 2018, at the Hon. N J S Francis Building on Grand Turk.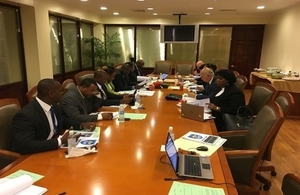 All Ministers were present.
At this meeting Cabinet:
advised His Excellency the Governor to grant a licence for a term of 50 years to Digicel (Turks and Caicos) Limited to install underground telecommunications fibre optic network cables along specified blocks of Crown Land in Providenciales and Grand Turk to enable the company to repair and improve its telecommunications infrastructure in TCI following damage caused by September's hurricanes

discussed and proposed amendments to the draft National Investment Policy 2018 which would be revised accordingly and returned to Cabinet for approval

advised His Excellency the Governor, as a result of particular circumstances, to grant a waiver of warehouse storage fees due to Blue Loos Ltd in accordance with Regulation 4 of the Customs (Government Transit Shed and Queen's Warehouse Rent) (Amendment) Regulations 2016

advised His Excellency the Governor to approve the Turks and Caicos Islands Employment (Amendment) Bill 2018 for forwarding to the House of Assembly for approval

advised His Excellency the Governor to approve a request by FLOW for an extension until 31 March 2018 of the exemption from the requirements of Section 12(1) of the Immigration Ordinance to permit the entry of teams into TCI to assist with ongoing restoration work on the company's inter-island microwave link between Grand Turk and Providenciales

approved the appointments of members to the following bodies with effect from 1 April 2018 to 31 March 2019 – Prisoner Categorisation Board; Parole Board; Adoption Committee; Telecommunications Commission

advised His Excellency the Governor to approve the re-appointment of the following members to the TCI Tourist Board with effect from 1 April 2018 to 31 March 2019. Mr Norman Hamilton, Chairman; Kendra Parker, Deputy Chair; Kimberly Cox, Member; Tendra Musgrove, Member; Gordon Lightbourne, Member; Patricia Eke, Member; Permanent Secretary, Ministry of Tourism – Ex Officio

noted recommendations for the grant of National Academic Awards to the best performing students in TCI who are eligible to receive the awards

noted the support and donations of the Sandals Foundation in partnership with the American Friends of Jamaica as well as the Turks and Caicos Hotels and Tourist Association (TCHTA) and Island Destinations Travel Group and Foundation and the Tuscany and Venetian Group for renovations and supply of equipment for schools in TCI following damage caused by Hurricanes Irma and Maria. Cabinet agreed that all Ministries should be required to maintain a register of donations

received an up-date by Her Excellency the Deputy Governor on progress against TCIG's Annual Recruitment Plan for FY 2017/18

His Excellency the Governor requested all Ministers to forward as soon as possible nominations for appointments to the various boards for which they are responsible

His Excellency the Governor reported that he and the Hon. Premier had agreed a process for monitoring and implementation of the recommendations in the recently published Statutory Body Review report

discussed the situation on Salt Cay which had suffered infrastructure damage as a result of recent bad weather and received an up-date on plans to address the damage and proposed measures to mitigate against future storms

discussed the problem of immigration staff shortages at Providenciales Airport to deal with incoming international flights.
Further information on these matters will be provided by Ministers in due course.
Published 8 March 2018