World news story
Turks and Caicos Post Cabinet Meeting Statement
His Excellency the Governor, Dr John Freeman, chaired the meeting of the Cabinet on Wednesday, 13 December 2017, at the Hilly Ewing Building on Providenciales.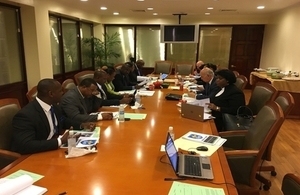 All Ministers were present except the Hon. Minister of Health, Agriculture and Human Services and the Hon. Minister of Tourism, Environment, Heritage and Culture.
At this meeting Cabinet:
advised His Excellency the Governor to approve the Supplementary Appropriation Bill No. 1 which includes revised expenditure estimates for the remainder of the 2017-18 financial year. The revised estimates are to be referred to the Secretary of State and subsequently the House of Assembly for approval

advised His Excellency the Governor to approve a reorganisation/reprioritisation of the Capital Programme for 2017/18 in order prioritise TCIG post hurricane recovery efforts

advised His Excellency the Governor to grant approval for the execution of Contingency Warrant 2 in relation to post hurricane expenditure in the amount of $994,528.43 which is to be laid on the table at a subsequent meeting of the House of Assembly

received an update from the Governor on the UK Humanitarian and Early Recovery Assistance provided or being provided to the TCI, which included the services of the UK Armed Forces and of aid from the UK's Department for International Development.
Further information will be provided by Ministers in due course.
Published 20 December 2017