World news story
Turks and Caicos Islands Set To Receive A Further $19m From EU
The Turks and Caicos Islands (TCI) secures further $19m in European Union funding.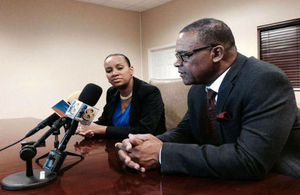 This European development Fund (EDF) 11 success follows on from TCI participation in the 12th Overseas Countries and Territories (OCT) Forum held in Brussels 2-10 December. TCI signed an agreement last month to receive a further $15m from EDF 10, with this being used over the next three years to improve the TCI government's business systems and procedures.
The 12th OCT Forum was attended by Deputy Governor Anya Williams, Minister of Finance Washington Misick and Permanent Secretary Athenee Williams and other senior TCIG officials.
In addition to attending the Ministerial Conference, the team held a Tri-lateral Meeting with Director of European Aid Jolita Butkeviche on the current and future EU grant funded programmes that could benefit the Islands. They also signed the Financing Agreement for EDF 10, which will see the TCI receive it's first tranche of $5m in March 2014.
A total of $298m (229 Euro) has been earmarked for EDF 11, with $19m being awarded to the TCI; $24m to Montserrat and $18m to Anguilla, among other UK Overseas Territories. The 11th EDF similar to the 10th will be delivered in the form of Budget support, but will need to be earmarked for a specific sector or purpose.
The TCI is now set to receive nearly $30m from the European Union, which is testament to our hard work to re-engage with this vital institution over the past year or so," said Anya Williams.

I am happy that within a relatively short period of time the TCI will benefit from funding to develop and improve another sector of public life here in the islands. Cabinet will now begin its deliberations as to how we can best use these additional funds.
Minister of Finance, Washington Misick, added, "While still in the early stages of its development, I very much welcome the allocation of these substantial sums to the TCI.
Although no firm decisions have yet been made, we have an aspiration to use these monies to help further build our transport infrastructure. The first drawdown likely to take place in 2016 which is already a critical year for the TCI in terms of its debt refinancing, these funds will be of great importance to our nation.
The TCI as a UK Overseas Territory enjoys membership with the EU which allows it to participate in EU funded programs and projects.
The EU fully funded Forum is held on an annual basis and alternates between the EU Headquarters in Brussels and the home of the reigning OCT Chair every other year.
The 13th EU OCT Forum in 2014 will be held in the BVI, the home of the newly elected Chair Dr. Orlando Smith.
Published 19 December 2013