World news story
Turks and Caicos Islands Post Cabinet Statement
The Acting Governor, Anya Williams, chaired the meeting of Cabinet on 27 August 2014 at the House of Assembly Building on Grand Turk.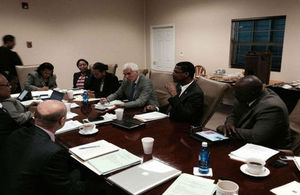 All Ministers were present except Hon. Minister of Finance and Hon. Minister of Border Control and Labour who are currently on North and Middle Caicos to support the recovery effort following the flooding over the weekend.
At this meeting Cabinet:
Received a status report on the recovery effort in Providenciales and North Caicos following the flooding which resulted during the passage of Tropical Storm Cristobal over the Turks and Caicos Islands. Staff from the Engineering and Maintenance Service (EMS) are working in both Providenciales and North Caicos to alleviate the flood waters. Cabinet heard that works to clear the road leading to Bottle Creek on North Caicos should be completed Wednesday afternoon. A top priority is for the safety of the community of Kew on North Caicos who are cut off by extensive flooding. EMS engineers are working with landowners in the area to identify an alternate access. In the meantime the Ministry of Health have made alternative arrangements for the provision of healthcare support in Kew until the situation is resolved. Government Ministers and senior officials remain on North and Middle Caicos to assess the damage and to ensure appropriate action is taken. Cabinet extended sincere thanks to all TCIG staff, agencies and members of the public for their assistance with the recovery effort. Further detailed briefings on recovery activities will be provided in media briefings and public announcements;

Approved the recommendations of the Scholarship Committee for scholarships at the Turks and Caicos Islands Community College for Associate Degrees (TCICC), British West Indies Collegiate (BWIC) and other programs for Advanced Levels (A 'Levels;)

Advised HE. the Governor to approve a further extension of the period for businesses operating in the Islands to pay for their licenses without the application of the 10% penalty for late renewal of a licence. This change would allow businesses until 30 September 2014 to pay the required license fee for the April 2014 - March 2015 financial year;

Agreed to extend the period for Non-Profit Organisations (NPOs) to register with the Financial Services Commission from 31 August to 30 November. The extension is being provided to enable consideration by Cabinet of submissions received from NPOs during the consultation period;

Noted that the Governor and Ministers will be absent from the islands as follows;

Governor Peter Beckingham: - 26th August – 14th September on personal business. Deputy Governor, Hon. Anya Williams is Acting Governor;
Hon. Minister of Finance and Trade: - 29th August – 7th September on personal business. Hon. Premier Acting;
Hon. Minister of Health and Human Services: - 29th August – 7th September on official business. Hon. Premier Acting;
Further information on these matters will be provided by Ministers in due course.
Published 28 August 2014