Turks and Caicos Cabinet meeting update
Governor Peter Beckingham chaired the Turks and Caicos Islands' (TCI) Cabinet meeting on Wednesday, 29th January 2014.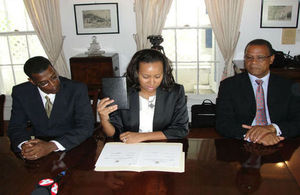 All Ministers were present at this meeting Cabinet which took place in the NJS Francis Building on Grand Turk.
Cabinet:
Approved, effective 1st April 2014, amendments to the Hotel and Restaurant Tax Ordinance to include independent tourism service providers (such as those offering water sports, diving, event management, boat trips, spa operations etc.) The Ordinance will be renamed the Hotel and Tourism (Taxation) Ordinance;

Approved for public consultation a Tax Rationalisation Plan that has been developed as a result of the consolidated recommendations of the Blue Ribbon Commission. The consultation will seek to inform the public about the implications of the plan;

Approved the draft 2014/15 TCI Government budget and directed that the annual appropriation Bill be prepared for consideration by the House of Assembly. In addition Cabinet approved the preparation of a supplementary appropriation Bill to make the necessary adjustments to the appropriated sums for the financial year 2013/14;

Approved in principle the long lease of 7.2 acres of Crown Land/Airport Authority Land located at the North side of Grand Turk aerodrome to Marina Aviation Services Ltd for the development of a Fixed Base Operation (FBO) and fire hall to accommodate the aerodrome and domestic fire services. A Memorandum of Understanding will be drafted to facilitate progress of negotiations and security of funds for the development ;

Approved amendments to the Dogs Control Ordinance to reflect a review of the Prohibited Breeds List and agreed that the Dogs Control (Amendment) Bill 2014 be introduced at an upcoming meeting of the House of Assembly;

Approved the membership of a Medical Tourism Steering Committee. The committee, established for a period of one year, will develop clear policies for the operation of medical tourism activities in the hospitals in Providenciales and Grand Turk;

Noted the recommendations of the Procurement Board on the award of the following contracts: Provision of Reverse Osmosis (RO) plant equipment building on Salt Cay; design, supply and commissioning of RO plant on Salt Cay; well-drilling for Salt Cay water plant; sports track upgrade at Raymond Gardiner High School, North Caicos; purchase of Generator at Police HQ, Providenciales; appointment of consultants to develop a strategic plan for the TCI Tourism Industry; construction of a fish market on West Road, Grand Turk. All contracts were subject to open tendering in accordance with the Procurement Ordinance 2012.
Further information on these matters will be provided by Ministers in due course.
Published 30 January 2014