Turkish President visits the UK
President Gül of Turkey is visiting the UK this week. He is here to receive the 2010 Chatham House International Statesman Prize from HM The Queen.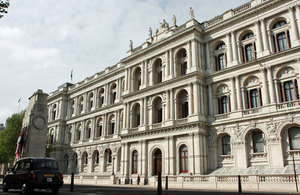 The President will receive the prize from HM The Queen at Banqueting House on 9 November.
On 8 November President Gul met the Prime Minister, who congratulated him on being awarded the prize, and on his impressive work as a figure for reconciliation and moderation within Turkey and internationally.
The two leaders held discussions on a range of issues of mutual importance, including Turkey's relationship with the EU, Iran and the international economy, in particular the upcoming G20 meeting.
The Prime Minister thanked President Gul for Turkey's continuing contribution in Afghanistan. President Gul is today meeting the Deputy Prime Minister and the Foreign Secretary.
Published 9 November 2010