World news story
Tunisian women, democratic transition and economic empowerment
British Embassy in Tunis and the British Council organised a round table to discuss Women's economic empowerment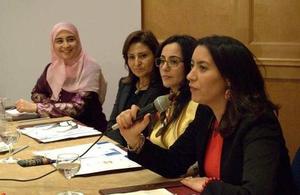 To mark International Women's Day, the British Embassy Tunis and the British Council organised a round table to discuss "Women's economic empowerment and supporting women achieve their potential". Feminist activists, female entrepreneurs and some government representatives took part in the discussion that was facilitated by the Embassy's partner Search for Common Ground SFCG which has been working on promoting dialogue between Tunisian women's associations with differing ideologies.
At the event, the participants recommended:
The prioritisation of the establishment of an Anti-Discrimination Organisation: MP Bochra Belhaj Hmida stated that it was among her priorities as the President of the Freedoms Committee to establish such a body which will investigate cases of discrimination in the public and private sector (including the media).

Reaching out to women in their neighbourhoods and training them on how to manage their businesses, and supporting women's access to funds by creating banking products specifically designed for women.

The adoption of a law to combat discrimination against women.

incorporating gender balance in media by raising the number of female panellists in TV and radio programmes and producing gender sensitive content.
And that the international community:
Provides further mentoring programmes for emerging female leaders with potential to support their access to decision making positions.
Ambassador Hamish Cowell opened the event by stressing the importance of women's empowerment. He noted not only the achievements on women's rights, notably in the Constitution, but also the contributions women had made to democratic transition – the activities of NGOs such as SFCG had helped underline the importance of dialogue and understanding which had been likewise an essential element of the success of transition. He was followed by the British Council's Director Nigel Bellingham who emphasised that supporting women's education is the best investment as it does not only empower women but contributes to the wider wellbeing of society.
The participants highlighted the rights that Tunisian women already have. The new Tunisian constitution enshrined the principle of gender parity and committed the state to protect existing women's rights. This constitutional provision represented a strong legal framework that should pave the way to reforming existing discriminatory laws. highlighted Omezzine Khelifa, a former advisor of the Minister of Finance.
When discussing ways to empower women economically, entrepreneurship was a major focus. Leila Belkhiria, the Vice President of the National Chamber of Women Entrepreneurs, stated that women benefit from about 80% of the micro credits: some are direct beneficiaries and others through their families business. But that, many Tunisian women entrepreneurs still lacked the resources needed to move out of the informal market, such as access to marketing tools and procedures for acquiring patents.
As for empowering women as decision makers, the Executive Director of Enda Inter-Arabe Essma Hmida, stated that only 0,5% of women are in a decision making position; and that although about 60% of university graduates are female, over the last five years women obtained only 17,11% of the jobs announced.
Published 17 March 2015