Press release
Try something new this summer...go fishing!!
The Environment Agency is encouraging would-be anglers, young and old, to give fishing a go as National Fishing Month gets underway.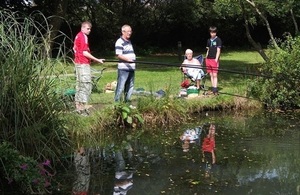 If you or your children have ever wanted to try fishing then now's your chance – it's a great way to enjoy the outdoors, learn a new skill and spend time with family and friends.
Between 18 July and 31 August events will be taking place all over the UK to inspire a new generation of people to take-up the sport.
There are hundreds of events taking place across the country including children's fishing matches, family fun days and free taster days.
Sarah Chare, head of fisheries at the Environment Agency, said:
Fishing is an excellent way to enjoy the outdoors, has great health, welfare and educational benefits and it is important to our economy. National Fishing Month is a great way to get started. And if fishing is for you then buying an annual rod fishing licence is easy. While under 12s go free, a trout and coarse fishing licence remains at £5 for 12 to 16 year olds and £27 for a full annual licence.

Money raised from rod licence sales is reinvested in the environment, including a whole range of projects to improve facilities for anglers, protect stocks from illegal fishing, plus fish restocking, invasive species eradication, and working with partners to encourage people to take-up fishing for the first time.
National Fishing Month begins with a special offer to take a family member or friend fishing between 18 July and 27 July 2014. Cut out the free rod licence voucher (worth £3.75) published in magazines and newspapers, scan the QR code or download a voucher.
National Fishing Month is organised by the Angling Trades Association and is supported by the Environment Agency, the Angling Trust, the Professional Anglers Association and the Game Angling Instructors Association. For more information and a full list of events visit http://www.nationalfishingmonth.com/
This year's National Fishing Month headline trade sponsors - Leeda, Pure Fishing and Daiwa - have made significant cash and product donations to support the participation initiative. Retailers Fishing Republic, Fosters of Birmingham, Sports Direct and Dragon Carp have also made significant contributions in donating products and their time in helping NFM run smoothly.
Buying a rod licence online from the Post Office website saves time and administration costs, which means more of the income can be spent on improving fish stocks and fishing.
For more information ore on rod licences and how to buy one visit https://www.gov.uk/buy-a-uk-fishing-rod-licence or direct from the post office
Published 17 July 2014