Press release
Troubled Families programme turning 117,000 lives around
Eric Pickles welcomes latest success of the Troubled Families programme.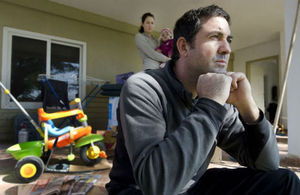 innovative intervention programme reaches 117,000 families
69,000 troubled families already turned around under scheme to reduce truancy, anti-social behaviour and worklessness
99% of families targeted being worked with by local teams
Eric Pickles has welcomed the latest success of the Troubled Families programme, a crucial part of the government's long-term economic plan to the turn the country around and help bring security and opportunity to families and communities.
The Communities Secretary on Wednesday (29 October 2014) welcomed the latest success of the scheme, which has now succeeded in reaching almost all of the hardest to help homes in the country that the Prime Minister pledged to help.
Councils' dedicated troubled families teams are now intensively working with 99% of households in England identified as having multiple problems, including high levels of truancy, youth crime, anti-social behaviour and worklessness, and would otherwise cost taxpayers an estimated £75,000 per year.
The Local Government Secretary said he was delighted that, with over 9 months still to go for the 3-year initiative, councils had met payment-by-results criteria for turning around the lives of more than 69,000 families.
This means that children are back in school where they had previously been persistently absent; that levels of youth crime and anti-social behaviour have been significantly reduced across the family; or that an adult in the home has moved off benefits and into work for 3 consecutive months or more.
Secretary of State Eric Pickles said:
The Troubled Families programme demonstrates exactly what our long-term economic plan means for people. New opportunities for families to turn their lives around and make something of themselves; more economic security for local communities blighted by worklessness; and more economic stability for taxpayers, as we reduce the bills for social failure and get this country living within its means.

It's a triple-win; an amazing programme; and we're going to extend its reach as far as possible.
Chief Secretary to the Treasury Danny Alexander said:
This government has turned around the lives of thousands of troubled families, transforming prospects for younger people and creating a fairer society. Unlike previous governments, we've brought together multiple services to finally deal with complex problems in a more effective and efficient way. Given that these issues previously cost an estimated £9 billion a year, that's great news for taxpayers too.
Head of the Troubled Families programme Louise Casey CB said:
This programme is working so effectively because it deals with the whole family and all of their problems, with 1 key worker going in through the front door and getting to grips with an average of 9 different problems, rather than a series of services failing to engage or get the family to change.

It is a fantastic achievement to have built up troubled families teams so quickly so that 117,000 families are now being worked with and 69,000 have already been turned around.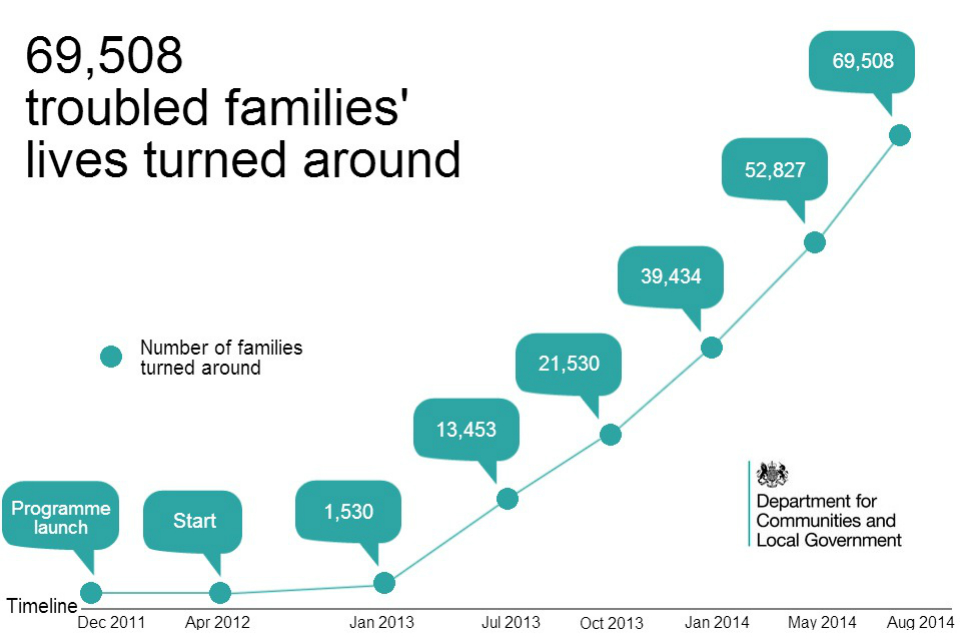 Further information
The Troubled Families programme applies to England only.
Troubled families are defined as those who:
are involved in youth crime or anti-social behaviour
have children who are excluded from school or regularly truanting
have an adult on out-of-work benefits
cost the public sector large sums in responding to their problems, an estimated average of £75,000 per year without intervention
Turning around troubled families means:
getting children back into school
cutting youth crime and anti-social behaviour across the whole family
getting adults into work
reducing the costs to the taxpayer of tackling their problems
See full details of the government's payment by results framework for troubled families.
The figures from local authorities on progress within the government's Troubled Families programme have been collated from the latest quarterly returns submitted to DCLG's Troubled Families team from all 152 upper tier local authorities in England in August 2014. These do not constitute official statistics.
The Understanding Troubled Families report showed that families within the programme have an average of 9 different serious problems including health and mental health, domestic violence and debt.
Local authorities are paid up to £4,000 on a payment-by-results basis for turning around troubled families. The government's £448 million 3-year budget for 2012 to 2015 is drawn from 6 Whitehall departments who all stand to benefit from the public sector working more effectively with troubled families.
At the Spending Review 2013 it was announced that the Troubled Families programme would be expanded to work with more families. The Budget in March 2014 announced that work with up to 40,000 of these families would begin this year.
There are 117,910 families targeted under the government's Troubled Families programme. For rounding purposes, however, the target is usually referred to as 120,000.
Office address and general enquiries
2 Marsham Street
London
SW1P 4DF
Contact form http://forms.communiti...
General enquiries: please use this number if you are a member of the public 030 3444 0000
Published 29 October 2014