Troops on operations to receive extra free phone minutes
Troops on the front line will be able to talk to friends and family for longer this Christmas with extra free phone minutes and a reduction in call prices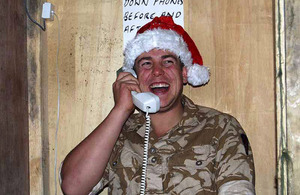 Personnel on operations will receive an extra 30 minutes of free talk time from the MOD over the Christmas period.
In addition, from this month onwards, troops will be able to purchase extra calls from Afghanistan to a UK landline at a reduced rate of 6.5 pence per minute, down from 11 pence.
Troops are routinely given an allowance of 30 minutes each week by the MOD, which is doubled in time for Christmas Day, and are also able to buy extra minutes - now at a reduced cost - should they wish.
Secretary of State for Defence, Dr Liam Fox, said:
Fighting on the front line is always tough, but it can be especially testing for troops and their families during the festive period. Cutting the cost of calls home and increasing the amount of free talk time during this time will hopefully go some way to showing our appreciation for their ongoing efforts.
Ranger Ian McKergan, who is currently serving in the Nad 'Ali area of Helmand province with 1st Battalion The Royal Irish Regiment, said:
Usually all my phone minutes are taken up speaking to my parents and girlfriend and so the extra minutes I am getting over Christmas and the New Year and the cheaper rates are a really great idea. It means that I will also be able to touch base with all my extended family and friends and makes being away over this period that little bit easier.
The reduced rate in the cost of calls to UK landlines has been agreed with communications company Paradigm under the current Welfare Communications Everywhere (WelComE) services at no extra cost to the MOD, and the cost of calls is expected to stay at this level for the foreseeable future.
Colonel Neil Fraser, who is responsible for the WelComE service for Defence Equipment and Support, added:
Having had three Christmas Days deployed on operations, two of these in Afghanistan, I know how difficult it can be for families to be apart during this time. Hopefully these cheaper calls, as well as the extra free talk time minutes, will mean that troops and their families will be able to speak for longer and more frequently when it matters the most.
In addition to their weekly allowance of free talk time, troops on operations are also entitled to unlimited internet access and, in certain locations, a newly-installed Wi-Fi service is now available, giving personnel access to their emails from the privacy of their accommodation.
Published 6 December 2010