Troops enjoy new facilities at RAF air passenger terminal
RAF Brize Norton, the principal airbase for transporting troops to and from operations, has now finished £186,000 worth of improvements to its air passenger terminal, benefiting the 15,000 Service personnel that pass through it every month.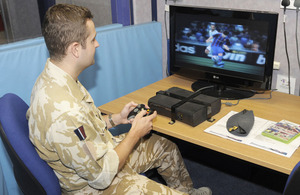 Group Captain Dom Stamp, Station Commander at RAF Brize Norton, unveiled the improvements to the air passenger terminal which operates 24-hours-a-day, 365-days-a-year. Last year, the terminal processed over 267,000 passengers to locations as diverse as Afghanistan, the USA, Europe, the Middle East, Africa and the Falkland Islands.
Group Captain Stamp said:
Our aim is to make the passenger's experience of travelling through Brize Norton as pleasant as possible at a time when they are under a huge amount of stress and facing a period of separation from loved ones.
Now, departing personnel can choose from a selection of 25 games to play on the eight recently-purchased Xboxes as well as access the internet for free on the 12 newly-installed computers to occupy their time whilst waiting for their flights.
In addition, new sofas and tables have been bought to replace some of the old airport-style chairs to provide more comfortable seating areas.
There is also a table football game and a well-stocked library from which personnel can borrow books, bringing them back when they return from their tour of duty.
The improvements are not solely aimed at benefiting personnel departing from the air terminal.
Those returning to the UK can now take advantage of a newly-fitted showering facility that provides troops with an area to freshen up before continuing their homeward journeys.
Group Captain Stamp added:
We are doing everything we can to help them at every stage - just to make their life more pleasant on the way out or on their way back.
Published 17 August 2010