Press release
Treasury launches pilot to achieve savings in PFI projects
Treasury launches pilot to achieve savings in PFI projects.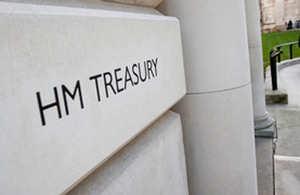 Lord Sassoon, Commercial Secretary to the Treasury, today launched a pilot project to identify the scope for achieving savings in operational Private Finance Initiative (PFI) contracts. This pilot project underlines the government's determination to ensure that no stone is left unturned in tackling the £148.5 billion deficit. The public sector will spend over £8 billion on PFI contracts in 2011-12 so PFI must be examined for savings.
The contract for the Queen's Hospital in Romford will be examined by an experienced team of commercial, legal and technical advisors to identify ways of reducing ongoing costs in this contract on behalf of the local NHS Trust. The lessons will then be used to drive savings across the full portfolio of PFI contracts.
Lord Sassoon, said:
PFI contracts are not immune from savings. The launch of this pilot, along with our next round of engagement with industry on a PFI code of conduct, indicates our determination to drive out costs while ensuring front line services are maintained.
It is critical that government urgently addresses every opportunity for savings across all contracts, no matter how complex they may be. We owe it to the taxpayer to eliminate wasteful practice and gold plating in contracts.
Minister for the Cabinet Office, Francis Maude said:
As part of the recommendations arising from Sir Philip Green's Efficiency Review this is the first of a number of pilot reviews of large contracts - including PFI contracts - with over £100 million remaining contract value. This pilot review will produce specific recommendations, looking particularly at how it can be made more efficient, flexible and cost effective as well as provide a replicable process which can be rolled-out to other relevant contracts.
Health Minister Simon Burns said:
This pilot is great news for the hospital - we want to make sure that NHS does everything possible to find savings that can be reinvested into frontline patient care. The focus must be to find efficiency gains and savings within the PFI contract itself, allowing the quality of care and patients themselves to remain the priority.
Our plans to modernise the NHS will already save the NHS £5 billion over the next five years but the NHS must continue to seek savings in big ways and small. The findings from the work at Queen's Hospital can be shared with all those trusts with PFI projects.
The purpose of the pilot is to identify the nature and level, both of savings and improved contract flexibility, that could be achieved in other accommodation based PFI projects. It is intended that the pilot will encourage contract managers to look across their PFI projects for savings in areas such as:
optimising contract and asset management
validating insurance cost/gain sharing arrangements
identifying where additional costs are being incurred for unnecessary service levels
The Treasury published draft guidance on how to make savings in operational PFI contracts in January. This guidance, aimed at public sector contract mangers, intends to help them identify and implement savings measures in their own contracts, reducing costs while maintaining frontline services. 
The guidance will be revised following completion of the pilot and measures implemented to roll out the findings and lessons learnt to all operational PFI contracts.
Government continues to seek a voluntary code of conduct with industry - investors, contractors and lenders - to ensure their positive engagement in reducing the cost of contracts and addressing issues likely to be generic across sectors such as agreement to updating older contractual provisions and enhancing transparency of financial reporting.
Notes for editors
The pilot is part of a wider review of public sector contracts following from Sir Philip Green's efficiency review and is being led by HM Treasury's Infrastructure UK, working in collaboration with the Cabinet Office's Efficiency and Reform Group, the Department of Health and the Barking, Havering and Redbridge University Hospitals NHS Trust.

The Queen's Hospital, Romford PFI project was signed in January 2004 and has a remaining contract value of £835m[1]. The contract has been selected for the pilot on the basis that it is likely to be representative of the broad population of PFI contracts. This means that it is likely that lessons learned from the pilot can be shared across the wider accommodation based PFI programme.

Examples of how savings may be made in PFI projects are set out in Making savings in operational PFI contracts. The purpose of the pilot is to test these examples.

It is currently anticipated the results from the pilot will be provided to Ministers in the spring.

At the Spending Review the government announced that it was transferring responsibility for the revenue costs of central government support for local government Private Finance Initiative (PFI) projects from a ring-fenced fund to the sponsoring department to remove perverse incentives for projects to be delivered through PFI.
Non-media enquiries should be addressed to the Treasury Correspondence and Enquiry Unit on 020 7270 4558 or by e-mail to public.enquiries@hm-treasury.gov.uk
Media enquiries should be addressed to the Treasury Press Office on 020 7270 5238.
[1] This figure is the net present value (NPV) of the projected nominal unitary payment for 2011-12 to 2041-42 per www.hm-treasury.gov.uk/ppp_pfi_stats.htm. It uses a nominal discount rate of 6.09% in accordance with the Green Book (3.5% real discount rate and assumes 2.5% general deflator).
Published 16 February 2011