News story
Travel boost for Londoners as Chancellor and Mayor confirm expansion of night time services & new WiFi for the Tube
24 hour services to begin on the London Overground in 2017.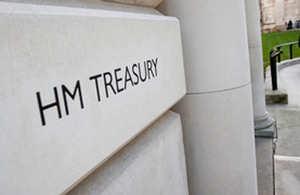 Chancellor of the Exchequer George Osborne and Mayor of London Boris Johnson today (20 February 2015) announced that weekend 24 hour services will begin on the London Overground in 2017.
The announcement came as the Chancellor and Mayor visited Victoria station overnight to visit the hardworking maintenance workers who keep the Tube line running.
The six point plan that they will outline this morning has transport investment at the heart of its ambition. It also aims to add £6.4bn to the London economy by 2030 and create over half a million extra jobs over the next five years.
There was even more good news for Londoners with Transport for London (TfL) confirming that as part of wider government investment in data networks, we will extend wi-fi to all below ground sections of the Tube by the end of the next Parliament.
Thanks to continued investment, night-time services will also be expanded to the Metropolitan, Circle, District, and Hammersmith and City lines once Transport for London's ongoing modernisation programmes are completed. The Docklands Light Rail will also offer 24 hour services from no later than 2021.
Currently 24 hour services will begin on the Northern, Victoria, Piccadilly, Jubilee and Central lines from this September.
The new 24 hour Overground route will cover the East London Line with services from Dalston Junction or Highbury & Islington to New Cross Gate supporting the Shoreditch area, while the new DLR routes will integrate with the Tube services operating at the same time.
Since 2010, this government has delivered the largest investment in London transport infrastructure in a generation with significant support to TfL alongside Crossrail.
Government will provide £10 billion of funding for investment in new TfL infrastructure over the next Parliament which means new tube improvements, better roads, more buses and cycle lanes that will support jobs, homes and a growing London that is estimated to reach a population of 10 million by the early 2030s.
As part of a wide range of transport announcements in the Long Term Economic Plan for London, the government will also ask TfL to come forward with prioritised proposals for exciting new infrastructure projects including Crossrail 2, the Bakerloo Line extension, Old Oak Common redevelopment, the next phase of Underground upgrades, Lower Thames Crossing and East London river crossings. This will ensure that new decisions on spending can be taken later this year.
The Mayor of London also confirmed today that to make buses better, TfL is ordering 200 more new Routemasters this year and committing to 800 new buses a year from next year onwards. This will secure jobs in Ballymena (NI) and Falkirk (Scotland), where 90% of TfL's buses are manufactured.
In his speech Chancellor of the Exchequer George Osborne said:
We are today committing to provide London with £10 billion for new transport improvements….

We live in a 24 hour city, and the Mayor is going to set out how our plan will deliver a 24 hour tube operation to support it.

I am also asking the Mayor to think big about the capital's long term needs…

I want these plans and others worked up, properly costed and prioritised so we can make a decision to go ahead in the government's Spending Round this summer.
The Mayor of London, Boris Johnson, said:
As London's population continues to grow it is investments in infrastructure such as this which will ensure that the capital remains competitive and the best big city to live in. Today we have committed to additional night Tube services, the first 24 hour London Overground and the purchase of hundreds of brand new buses. This, combined with the promise of future investment in projects such as Crossrail 2 and the Bakerloo Line extension, will ensure we keep the capital's economy moving well into the 21st century.
Published 20 February 2015