World news story
Travel advice for the 70th anniversary of the Normandy Landings
Advice for British Nationals travelling to the Commemoration of the 70th anniversary of the D-Day Landings in Normandy.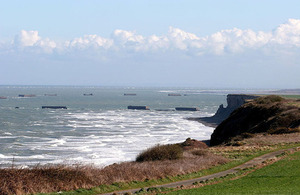 The Commemoration of the 70th anniversary of the D-Day Landings in Normandy will take place over 5 and 6 June 2014. Her Majesty The Queen and many other Heads of State will attend the commemorations. TRH The Prince of Wales and The Duchess of Cornwall will also attend certain UK and Canadian events, as will The Duke and Duchess of Cambridge. This will inevitably lead to tight security constraints and many ceremonies and sites in the region will have stringent access control put in place by the French authorities.
The main international ceremony will be held on Sword Beach in Ouistreham, Calvados. The main UK/French bi-national ceremony will be held within the Commonwealth War Graves Commission Cemetery, Bayeux, Calvados. There will also be ceremonies at locations such as Bayeux Cathedral, Arromanches, and Ranville. Other bilateral and national ceremonies will also be held on Juno Beach and Omaha Beach. News and information on the commemorations can be found on the specific site.
Practical advice for people wishing to attend the commemoration ceremonies
See our interactive map for details of British commemoration ceremonies, and sites and zones with access controls.
If you are a veteran and you wish to attend commemoration ceremonies, you should contact the Royal British Legion as quickly as possible.
If you are planning individual travel, please be aware that if you do not have the required passes you will not be able to access some sites or ceremonies on 5 and 6 June 2014. To obtain accreditation, if you are, or are travelling with, a Normandy veteran, you should apply to the Ministry of Defense. If you are not a veteran, you should apply directly to the French authorities by e-mail following these instructions.
Practical advice for all travellers in Normandy on 6 June
A controlled traffic zone (Zone de circulation régulé, ZCR) will be in place on 6 June from 6AM to 6PM. Vehicles who do not have a sticker will not be allowed to enter the ZCR, which will stretch approximately from Ouistreham to Isigny sur Mer, and from the Channel to the south Bayeux ring-road and to the northern edge of Caen. Please see the official website for details, including maps and a list of affected towns. This website also explains how permanent or temporary residents and visitors can obtain an access sticker.
In addition to the above ZCR, road closures will be in force on certain routes, particularly near commemoration sites. Follow diversions put in place by local authorities. If you are travelling in the area by car (including through travel to and from Cherbourg ferry port), please take this into consideration when working out how much time you need to leave.
Hotel and other accommodation in the area will be difficult to obtain and you are unlikely to be able to book on the day anywhere in the region during these dates.
Maritime restrictions will be in force in the coastal waters around the area. The Prefecture Maritime has issued detailed instructions to seafarers.
Ferry arrivals and departures will be affected at Caen-Ouistreham ferry port. You should maintain contact with your ferry company to ensure that you are up to date on any changes.
There will be no commercial air transport into Caen-Carpiquet airport or Deauville-Saint-Gatien airport. Public road and rail transport will be operating as usual, although delays should be expected.
Follow us on Twitter and like us on Facebook for updates about the commemorations.
General advice for travellers to France
Check that your passport is valid for your whole trip to France.
Make sure that you bring your European Health Insurance Card (EHIC) – this proves your entitlement to reduced cost healthcare if you need medical attention.
The EHIC does not cover the entire cost of hospitalisation, and it does not cover repatriation should that become necessary. You should take out fully comprehensive travel insurance.
Keep an eye on your possessions at all times. Pickpockets operate in all large crowds and on most public transport.
The emergency number in France is 112. If you need Consular assistance, call +33 1 44 51 31 00.
Check out our travel advice for France before you go, and follow us on Twitter
Published 8 April 2014
Last updated 30 May 2014
+ show all updates
Updates in line with recent announcements about events and participants.
Link to French government's instructions to seafarers.
Attendance at certain ceremonies by The Prince of Wales and The Duchess of Cornwall now announced. Updated Twitter link.
Updates to information about the traffic control zone and other travel issues.
Updated to reflect new information that secure zones requiring accreditation will be in place on 6 June only.
Update to information on invitations for the official commemoration ceremonies.
First published.