News story
Travel advice for Bangkok
The Thai Government has announced that it will take measures this evening to increase the pressure on demonstrators in central Bangkok. British nationals should avoid areas where demonstrations are taking place.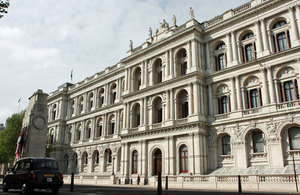 On 13 May the Thai Government's Centre for the Resolution of Emergency Situations (CRES) announced that it will take measures to increase the pressure on the red shirt demonstrators currently located around the Ratchaprasong intersection, the central business district of Bangkok, close to the British Embassy.
From 1800 on 13 May, it is likely that access to the Ratchaprasong area by road, pedestrian and public transport will be restricted; numbers of security personnel and armoured vehicles may increase around the perimeter of the demonstration area; and there may also be disruption to utilities in the Ratchaprasong area.
As a result of the likely disruption caused by continued unrest in the Ratchaprasong area, the British Embassy in Bangkok is currently operating with a revised service the public. British nationals requiring consular assistance should call 02 305 8333 (in Thailand).
Tensions remain high in and around the Ratchaprasong intersection and there could be outbreaks of violence. You should avoid this area and if violence breaks out remain indoors and monitor the media and this travel advice. British nationals may wish to consider if it is essential for them to travel within Central Bangkok.
You should carry your passport or some form of ID and evidence to show where you reside to gain access if you are stopped.
We advise against all but essential travel to the city of Bangkok, in view of the continued political unrest.
For further information, see the Foreign Office travel advice for Thailand.
Published 13 May 2010