Transporting vital equipment for Libya operations
The RAF's No 2 (Mechanical Transport) [MT] Squadron has been busier than normal over recent weeks having been tasked to drive equipment and supplies to Italy for the RAF's operations over Libya.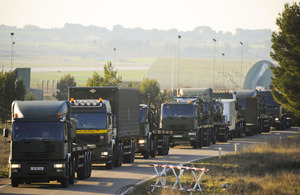 To date, in support of Operation ELLAMY, 2 MT Squadron personnel, based at RAF Wittering, have travelled the equivalent distance of eight times around the world and transported 1,680 tonnes of kit down to the airfield at Gioia del Colle to support 906 Expeditionary Air Wing.
In the hours following the passing of United Nations Security Council Resolution 1973, 2 MT Squadron personnel who had been deployed to support Operation Southern Mistral (a flying exercise in Nancy, France, involving Tornados and French Mirage fighter jets) were rerouted, and the equipment, carried in a 20-vehicle convoy, taken south.
A second convoy of 21 articulated lorries was rapidly readied back in the UK with kit collected from RAF Coningsby and RAF Marham, and the convoy left from 2 MT Squadron's base of RAF Wittering on 20 March 2011, six days after the first convoy left Nancy.
The high-value equipment being transported included generators, air start trolleys, drop tanks, hydraulic rigs and weapon loaders for the Typhoon and Tornado aircraft that are policing the no-fly zone over Libya in a bid to protect the country's civilian population from attacks by Colonel Gaddafi.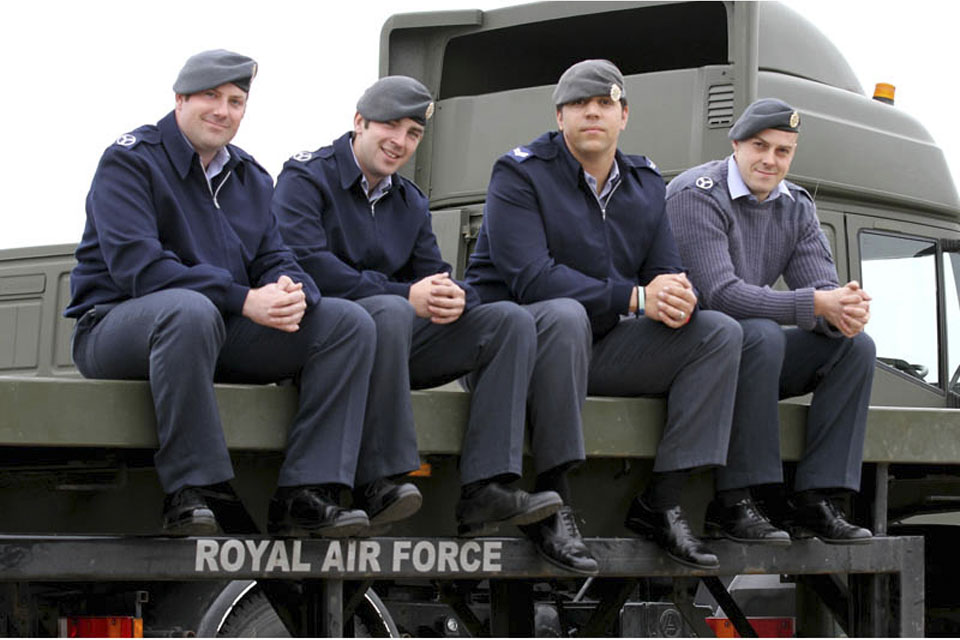 Convoy Commander, Sergeant Andy Lewis, said:
The squadron does a lot of convoys of this nature but mainly to support the defence exercise programme. We went from supporting an exercise in France to supporting a operation.
Everything changed and the speed and the tempo went up. Usually we would have months to prepare for an exercise, but for this [ELLAMY] it was a matter of hours.
I was given 36 hours' notification. It was a big undertaking but there was a real buzz around the station as the guys were prepping the vehicles, getting jabs at the med centre and convoy commanders were getting their briefings.
Taking so many trucks on the road at any one time also had to be meticulously planned out, including paying at road tolls, taking rests and refuelling - that would take anywhere between 30 minutes and an hour-and-a-half.
The convoys were escorted through Italy by the Italian Carabinieri (police). The trip from the UK to Gioia del Colle took four days.
Electrician Corporal Simon Vaughan, from 5001 Support Engineering Flight (SEF), that supports 2 MT Squadron, performed one of the quickest battery changes of his service career during one convoy.
He said:
We had just entered Italy and the lead vehicle's battery had packed up. It was a single carriage slip road and cars were backing up behind the convoy, with an Italian policeman waving us on.
Usually a battery change would take about 15 minutes; we did it in under five. Fortunately we had a spare battery that had been put on as spares at the last minute.
The 5001 SEF fitters would work through the night repairing any vehicles to ensure they were ready for the next day's drive.
During the peak of getting equipment down to Gioia del Colle, of the 155 personnel in 2 MT Squadron, at one point only 30 were left at RAF Wittering. Some are still deployed in Italy and France maintaining the sustainment supply convoys that continue to leave RAF Wittering on a regular basis.
Published 10 May 2011