Transport upgrade for RAF Recruit Training Squadron mascot
Aircraftman George the Goat made his maiden journey in his new trailer recently to appear in a graduation parade at RAF Halton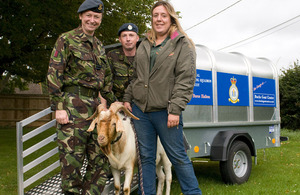 George is the Recruit Training Squadron mascot and normally resides at the Bucks Goat Centre. His duties include heading up the graduation parades that take place at RAF Halton in addition to public parades.
After many months of faithful service George was finally given his new set of wheels. The trailer, which was modified at the station's workshops with RAF and Bucks Goat Centre logos, will ensure George's transportation to and from engagements is as comfortable and stylish as possible.
George appears to love his new trailer as it gives him a place to rest, shelter and prepare himself physically and mentally for his performances.
Flight Lieutenant Marsden said:
This is a first for Recruit Training Squadron and ensures that George not only travels safely but provides an excellent opportunity to positively advertise RAF Halton and the Bucks Goat Centre.
We convey our thanks to the Bucks Goat Centre for their continued support allowing us frequent access to George, enabling him to successfully fulfil his high profile commitments.
George is next set to appear for the Recruit Training Squadron at Campion Intake's graduation parade and can be found grazing at the Bucks Goat Centre in Aylesbury when off duty.
Published 23 September 2011