News story
Transport Secretary visits Merseyside
Patrick McLoughlin sees how transport schemes are boosting local economy.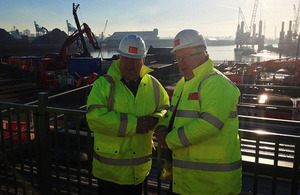 Transport Secretary Patrick McLoughlin has visited Liverpool to see how more than £500 million investment is improving the local economy.
Mr McLoughlin first visited the Port of Liverpool, where owners Peel Ports are investing more than £300 million to build new container ship berths, quays and cranes at the 'Liverpool 2' container terminal.
Construction is well underway on what will be Europe's first semi-automated container port; when completed by the end of 2015 it will be able to accommodate the world's largest deep sea container vessels.
The new terminal is being supported by a £35 million government investment to dredge the bay and allow bigger ships into the port. The new terminal will support 5,000 jobs over the next 10 years, providing a boost to Britain's £14 billion a year maritime industry.
Patrick McLoughlin said:
This record investment in Liverpool's transport network will provide a huge boost to the city. Improved port, road and rail connections will link people with thousands of new jobs in the region and encourage businesses to grow. This is part of the government's long-term economic plan to ensure our regions thrive, benefiting the UK as a whole.
The Transport Secretary went on to Knowsley Business Park, where new transport connections are helping local businesses grow, to visit Matalan's HQ and tour the company's Knowsley Park Distribution Centre.
More than £5.6 million will be spent on upgrading roads around the business park, while planned improvements to the M6 will improve journeys into Liverpool and the Merseyside area.
The Transport Secretary also welcomed the decision by the Liverpool City Region Combined Authority to use funding from its local growth deal to develop the Parkside road and rail freight development at Newton-le-Willows. A total of £14.5 million will be spent improving Parkside's public transport connections to provide easier access to jobs.
Patrick McLoughlin added:
This £5.6 million to improve links to Knowsley Business Park will unlock economic growth. We are spending nearly £15 million on transport links to the new Parkside freight terminal and upgrading the M6 as part of our £15.2 billion plan to improve this country's roads.
Maritime media enquiries
Press enquiries 020 7944 3021
Out of hours 020 7944 4292
Switchboard 0300 330 3000
Published 6 February 2015